Chinese import, export growth slow as demand cools
Chinese import growth slowed faster than expected last month, as inbound shipments of commodities, such as iron ore and copper, weakened, while export growth more than halved, in line with a general cooling in demand for electronic gadgets.
China's imports rose 11.9 percent last month, cooling from March's 20.3 percent rise, official data showed yesterday, missing analysts' expectations for an 18 percent growth.
Exports rose 8 percent from a year earlier, slowing from a 16.4 percent rise in the previous month and short of expectations of 10.4 percent.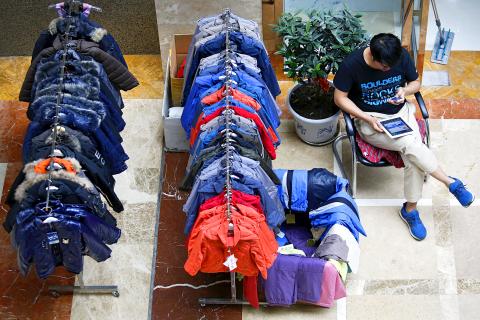 A vendor browses his phone and a tablet computer near children's winter clothes on display for sale outside his shop at Ritan International Trade Center in Beijing yesterday.
Photo: AP
While the data showed that trade remained robust at the beginning of the second quarter, analysts said the spurt in China's economic growth seen in the first three months of the year might be as good as it gets, as policymakers seek to tighten speculative investment, especially in the property sector.
"We expect export growth to hold up well given the relatively bright outlook for the global economy this year," Capital Economics China economist Julian Evans-Pritchard said in a note.
"Growth in inbound shipments will continue to face headwinds, however. In particular, policy tightening will further weigh on domestic demand in coming quarters," he said.
Last month's numbers left the country with a trade surplus of US$38.05 billion, compared with forecasts of US$35.50 billion, and above US$23.93 billion in March. Last month's trade figures are preliminary, with revised data due on May 23.
Chinese imports of crude oil, iron ore and copper all fell by volume compared with March, with the data in line with a recent survey of purchasing managers in the manufacturing sector showing last month's expansion was the slowest in six months.
Despite the slowdown, imports year-to-date are still up 20.8 percent by value, compared with 8.1 percent growth for exports over the first four months, though analysts said imports could slow further this year.
While the Chinese economy grew faster than expected in the first quarter, policymakers have moved to reduce financial risks in the economy and stamp out speculative activity in the property market.
Commodity imports have also been hit by falling prices, with iron ore and steel hitting multi-month lows on China's future markets last month amid concern over rising inventories. China's producer price inflation slowed in March for the first time in seven months, with price gains expected to continue to cool.
Exports of electronics and machinery products increased 2 percent year-on-year last month, customs data showed, slowing from 12.3 percent growth in March.
China's surplus with the US widened last month, meaning pressure from the US for action on the trade imbalance is not likely to go away anytime soon.
The surplus with the US was US$21.34 billion, up from US$17.74 billion in March and higher than the year-ago period, customs data showed.
Exports to the US, China's largest outbound market, rose 11.7 percent last month from a year earlier, while imports from the US rose 1.5 percent.
China's large trade surplus with the US has drawn criticism from US President Donald Trump.
Chinese imports and exports are expected to stabilize and improve in the near future, the Chinese Ministry of Commerce said last week in its quarterly report on trends in the nation's foreign trade.
Foreign trade is expected to face a better environment this year compared with the past two years, the report said.
Comments will be moderated. Keep comments relevant to the article. Remarks containing abusive and obscene language, personal attacks of any kind or promotion will be removed and the user banned. Final decision will be at the discretion of the Taipei Times.