Cuban sugar burns to recapture sweet smell of success
Cuba's sugar industry is trying to recover after production hit rock bottom in 2010, but locals doubt that the sector can return to its former glory with its main customer, the Soviet Union, out of business
A sweet smell of treacle used to fill the air in the village of Pedro Betancourt — but like the workers from the derelict Cuba Libre sugar refinery, it has dispersed.
It was the smell of success against the odds for Cuba, reviled by the US and its allies in the Cold War, but still a world champion sugar producer — until the Soviet Union fell and stopped buying it from late Cuban president Fidel Castro's communist regime.
Now a demolition crane is attacking what is left of the Cuba Libre refinery's rusty steel skeleton. Fidel is dead, the Cold War is over — and Cuba wants its sugar industry back.
A car drives past a poster of late Cuban president Fidel Castro near the Boris Luis Santa Coloma sugar mill in Madruga in Cuba's Mayabeque Province on Feb. 20.
Photo: AFP
"The refinery was the life of the people who lived here," says Arnaldo Herrera, 86.
He lost his job at the plant when it closed in 2004.
"When that changes, life changes," he says.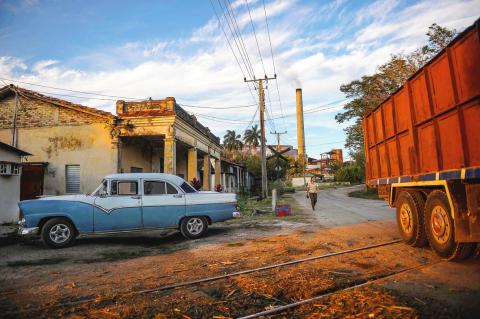 A car is parked near the Boris Luis Santa Coloma sugar mill in Madruga in Cuba's Mayabeque Province on Feb. 20.
Photo: AFP
Britain and other colonial powers grew fat on Cuban sugarcane — harvested by black slaves — from the 18th century until independence at the turn of the 20th century.
The island then sold a lot of sugar to the US until Washington imposed a trade embargo after communist revolutionary Castro took over in 1959.
Castro later announced a "revolutionary offensive" to relaunch the industry. The Soviet Union bought the sugar at preferential prices.
For 1970 Castro famously set a production target of a "great harvest" of 10 million tonnes. He fell short by 1.5 million tonnes.
However, after the Soviet Union collapsed in 1989, with the US embargo still in place and prices falling, the island could no longer compete.
Two-thirds of its refineries — about 100 plants — have shut down since 2002.
From 8 million tonnes per year in the 1990s, production plunged to just more than 1 million tonnes in 2010.
"That was when we touched bottom," says Rafael Suarez, head of international relations for the state sugar monopoly Azcuba. "Since then an effort has been made. The refineries have been improved and a lot of emphasis has been put on recovering sugarcane production."
Suarez says Azcuba is also looking to expand production of sugar derivatives: rum, cattle feed and "renewable" fuel.
About 100,000 Cubans used to work in refineries like the one in Pedro Betancourt in the east.
The refineries used to pay well, for Cuba — at least double the US$28 average monthly salary.
Julio Dominguez, 84, worked in Cuba Libre until it shut.
"This town has been stripped bare. Tobacco production is all it has left," he says.
The refinery stopped milling in 2004 and demolition began in 2007. Like everything in Cuba, it takes time.
"Some still weep when they pass the site," says Eliecer Rodriguez, who heads the demolition. "I am knocking it down, but that was someone else's decision."
Workers were kept on their salaries for some time after the closure. Some have since moved on to work as tobacco producers, taxi drivers or handymen. Others have emigrated to the US.
"Closing a sugar refinery is always traumatic in human and social terms," Suarez says. "What the revolution did was take a lot of care to see that no one was abandoned."
Soon only the concrete smokestacks of Cuba Libre will stand among the green fields of sugarcane.
However, 70km away, a chimney is still smoking. The air smells of caramel. It is business as usual at the Jesus Rabi refinery.
The plant's boiler operator Juan Hernandez, 63, was fired from two sugar plants that shut down before he landed there.
"Those were bitter times. When a sugar refinery shuts, it really shuts. There isn't the economy for it," he says.
Yet by mechanizing the sugar harvest almost completely, Cuba has managed to boost production to about 2 million tonnes per year from its 2010 low point.
More than half of that it exports, mostly to China and Russia.
Suarez says the island can hump up production to 4 million tonnes per year.
That will still leave it as a minnow in world terms.
"The days when such a small country as Cuba was the biggest exporter of sugar will never return," he said. "We don't pretend they will."
Comments will be moderated. Keep comments relevant to the article. Remarks containing abusive and obscene language, personal attacks of any kind or promotion will be removed and the user banned. Final decision will be at the discretion of the Taipei Times.