Apple in talks to launch money-transfer service between iPhones: Recode report
Apple Inc has held talks with payments industry partners about launching a money-transfer service, technology news Web site Recode reported on Thursday.
The service would allow iPhone owners to transfer money digitally to other iPhone users, Recode reported, citing sources familiar with the talks.
One source told Recode that Apple is to announce the new service later this year, while another told the Web site an announcement and launch date might not be set.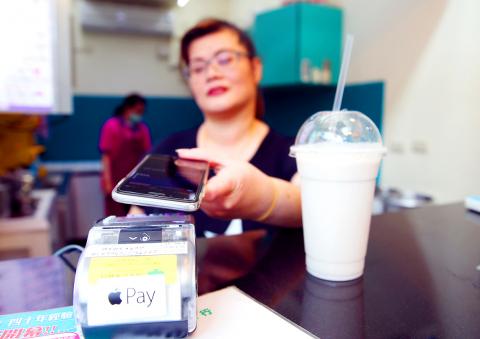 A customer pays a bill with an iPhone using the Apple Pay money-transfer service in Taipei yesterday.
Photo: CNA
If launched, the service would compete with digital money transfer services such as PayPal's Venmo and Square Inc's Square Cash, as well as services from big banks.
Apple was also in talks with payments network operator Visa Inc to create its own prepaid cards to run on the Visa debit network, and to be tied to the new peer-to-peer service, the Recode report said.
Apple is looking for ways to boost usage of Apple Pay, its mobile payments service, and the debit card could be one way to do that, Recode said.
Apple Pay usage has been lighter than expected since its launch two and a half years ago, the Web site said, citing sources from big US banks.
Separately, almost two weeks after Apple secured permission to test its autonomous car technology in California, the first images of the vehicle have been captured on Silicon Valley roads this week.
The white Lexus RX450h SUV emerged from an Apple facility and was fitted with an array of sensors, a person who saw the vehicle and provided photos to Bloomberg News said.
The sensors included Velodyne Lidar Inc's top-of-the-range 64-channel lidar, at least two radar and a series of cameras.
The sensors appear to be products bought off the shelf from suppliers, rather than custom-made, an industry expert who saw the photos said.
Apple declined to comment.
Comments will be moderated. Keep comments relevant to the article. Remarks containing abusive and obscene language, personal attacks of any kind or promotion will be removed and the user banned. Final decision will be at the discretion of the Taipei Times.