Bangkok's street vendors to endure: tourism chief
Bangkok's street food culture will survive a crackdown on vendors, Thailand's tourism chief vowed yesterday, assuring travelers that a city renowned for its chaotic charm was not being remodeled into a Singapore-lite.
The Bangkok city government stunned Thais and tourists alike this week with plans to bar the capital's world-famous food stalls from all main roads to reclaim sidewalks for the public.
Tourism Authority of Thailand Governor Yuthasak Supasorn yesterday pushed back against fears that Bangkok was being gentrified in the image of Singapore — which relishes orderliness, but is often characterized as tame compared with its Southeast Asian rivals.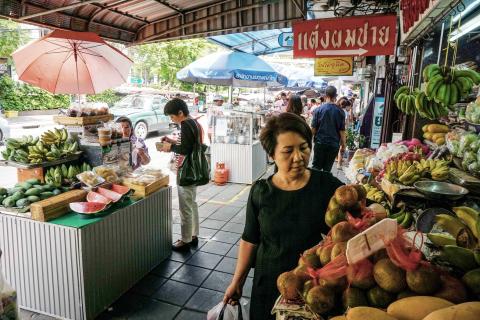 People shop for fruit at a street stall in Bangkok's Phaya Thai District on Tuesday.
Photo: AFP
"We will keep our uniqueness. We won't change our Yaowarat [Road, home to the city's Chinatown] into Orchard [Road]," he said, referring to a shopping district in Singapore with wide boulevards devoid of street life.
"[The plan] is not to totally take away street food from Bangkok streets, but there are some reasons and some places that will be reorganized," he added.
Nearly two-thirds of Bangkok's 30,000 street vendors have already been removed or relocated from sidewalks to open up space for pedestrians, city officials said.
Vendors would be allowed to set up shop on smaller streets, while hawkers based in two top tourist hubs — Chinatown and Khaosan Road — are to be reorganized, but not barred completely.
"Bangkok has some of the best street food in the world, you cannot take it away from the people of the world," he told reporters, adding that he was meeting with city officials to discuss how the restrictions would be enforced.
Many have been hoping the crackdown would wither like many of the other cleanup campaigns launched under the ruling junta.
Tourism is a major of pillar of Thailand's economy and has boomed, despite a decade of political unrest and bad press over its dangerous roads and lax safety regulations.
The kingdom welcomed a record 32 million tourists last year, with revenue making up nearly one-fifth of an otherwise lagging economy.
Comments will be moderated. Keep comments relevant to the article. Remarks containing abusive and obscene language, personal attacks of any kind or promotion will be removed and the user banned. Final decision will be at the discretion of the Taipei Times.