US told 'use every arrow' against China
VOCIFEROUS COMPLAINTS: The US business community has changed tact from its past stance, when it feared retribution from Beijing for any forceful action from Washington
The US should "use every arrow" in its quiver to ensure a level commercial playing field in China, a US business lobby said yesterday, warning that this year could be the toughest in decades for US firms in China.
China's policies designed to support domestic companies and create national champions have narrowed the space for foreign companies, the American Chamber of Commerce in China said in its annual business climate report.
The White House has said US and Chinese officials are fleshing out a pledge by US President Donald Trump and Chinese President Xi Jinping (習近平) for a 100-day plan to cut the US trade deficit with China, which reached US$347 billion last year.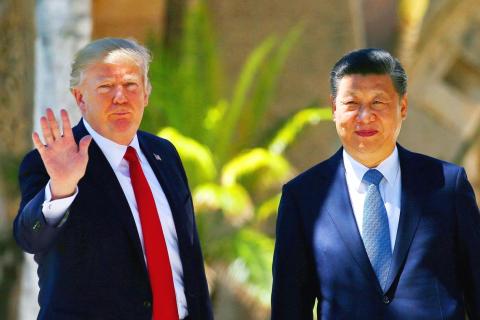 US President Donald Trump, left, waves as he and Chinese President Xi Jinping walk along the front patio of the Mar-a-Lago estate after a bilateral meeting in Palm Beach, Florida on April 7.
Photo: Reuters
However, the chamber said it hoped more attention would be paid to market access for US firms in China.
"Right now basically we are recommending everything you have in your quiver — please use every arrow possible, with the understanding that some of these points of leverage could be counterproductive to us," chamber chairman William Zarit said, referring to possible backlash from Beijing.
He was speaking at a briefing on the report.
US business groups want US officials to take measures against Beijing on market imbalances, but not push the world's two largest economies toward a trade war.
Nonetheless, more vociferous complaints from the US business community mark a shift from years past, when many companies eschewed the idea of forceful action by Washington for fear of retribution by China.
Foreign technology companies, in particular, fear what they see as Beijing's plans to pump billions of US dollars in subsidies into domestic competitors and push regulations that could force the surrender of key technology or hit competitiveness.
"With uncertainty stemming from political and economic transitions in both the US and China, perceptions of a deteriorating investment environment for foreign companies in China, and a slowing economy, 2017 will likely be one of the most challenging years in decades for US companies in China," the chamber said in its report.
US business leaders also worry that Trump's focus on curtailing North Korea's nuclear and missile programs could undercut US commercial interests in China.
Last week, Trump tweeted that Beijing would get a better trade deal if it helped resolve the US problem with Pyongyang.
"I'm sorry to see there is a possibility we may lose some momentum on helping to level the playing field with China in our economic relationship, due to the situation in North Korea, if there is some kind of trade-off," Zarit said.
Comments will be moderated. Keep comments relevant to the article. Remarks containing abusive and obscene language, personal attacks of any kind or promotion will be removed and the user banned. Final decision will be at the discretion of the Taipei Times.