Most Fed policymakers favor assets wind down
Most US Federal Reserve policymakers think the central bank should take steps to begin trimming its US$4.5 trillion balance sheet later this year as long as the economic data hold up, minutes from their last meeting showed.
The minutes released on Wednesday of the March 14 and 15 policy discussion, in which the US Federal Open Market Committee (FOMC) voted 9-1 to raise interest rates, also showed that the rate-setting committee had a broad discussion about whether to phase out or halt reinvestments all at once.
"Provided that the economy continued to perform about as expected, most participants anticipated that gradual increases in the federal funds rate would continue and judged that a change to the Committee's reinvestment policy would likely be appropriate later this year," the Fed said in the minutes.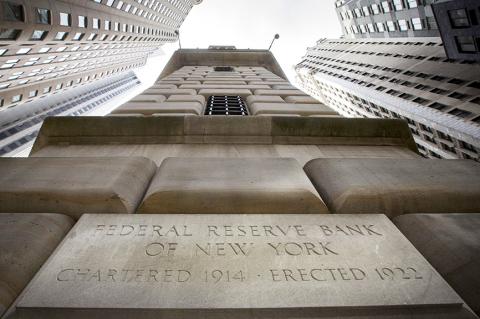 The corner stone of the New York Federal Reserve Bank is pictured in New York's financial district on March 25, 2015.
Photo: Reuters
The Fed bought US Treasury and mortgage-backed bonds on an unprecedented scale in the wake of the financial crisis to help keep interest rates low to spur hiring and growth.
Fed policymakers have previously indicated that any plan to shrink its portfolio would let the bonds naturally roll off, by not reinvesting them when they mature, once its interest rate hikes were "well under way."
"The December FOMC meeting is probably the most likely date to introduce this change," said Paul Ashworth, chief US economist at Capital Economics in Toronto, following the publication of the minutes.
The Fed lifted its benchmark interest rate last month to a target range of between 0.75 and 1 percent, its second hike in three months, and signaled it remained on track to lift rates twice more this year.
In the minutes, almost all policymakers agreed that the timing of a change in balance sheet policy would depend on economic and financial conditions, and generally preferred to taper or stop investments in both Treasury and mortgage-backed bonds.
An approach that phased out reinvestments was seen as less likely to trigger financial market volatility, while doing so all at once "was generally viewed as easier to communicate while allowing for somewhat swifter normalization of the size of the balance sheet."
What they all agreed on was that shrinking the balance sheet should be gradual and predictable, and nearly all said that any altering of the policy "should be communicated ... well in advance of an actual change."
Elsewhere in the minutes, policymakers appeared to see upside risks to the economy, while there was still disagreement on how close the Fed was to meeting its inflation goal of 2 percent for this year.
Along with the minutes, the central bank for the first time also published a set of so-called "fan charts" to show the extent of uncertainty around their quarterly economic forecasts.
Uncertainty around them was substantial, the Fed said.
Comments will be moderated. Keep comments relevant to the article. Remarks containing abusive and obscene language, personal attacks of any kind or promotion will be removed and the user banned. Final decision will be at the discretion of the Taipei Times.