ADB forecasts steady Asian growth
POTENTIAL RISKS: The Manila-based lender retained its economic growth forecast of 5.7% for developing Asia, but said unexpected changes to US policy posed risks
Asia's developing economies are expected to see steady growth this year and the next, though the evolving policies of US President Donald Trump's administration are a major uncertainty, the Asian Development Bank (ADB) said yesterday in a report.
The Manila-based lender forecast growth in developing Asia at 5.7 percent for this year — unchanged from its previous forecast — and said that pace would continue into next year.
It said 30 of the 45 countries covered in the report would see sustained growth that would help offset the gradual slowdown in China, Asia's biggest economy.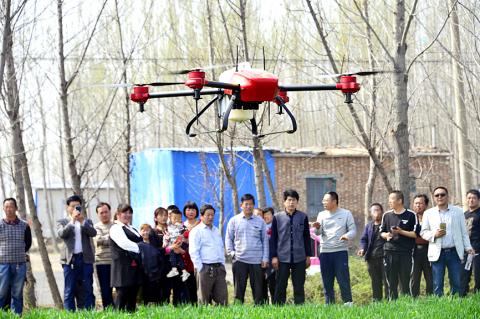 Residents look on as an agricultural drone is used to spray pesticide on crops in a village in Chiping County in China's Shandong Province yesterday. Developing Asian countries will drive the world economy in the next two years, the Asian Development Bank said yesterday, but warned of uncertainties from the US and Europe.
Photo: AFP
However, the risks include unexpected changes to US government policies in areas such as interest rates.
The ADB said the uncertainty could undermine the outlook for the region, which accounts for 60 percent of global economic growth.
The US Federal Reserve, which raised its benchmark interest rate last month for the second time in three months, plans to gradually raise rates over the next three years as the economy improves.
If those rate increases come more rapidly because of stronger than expected US economic growth, the "sharper than expected monetary tightening could have further consequences for developing Asia," the ADB said in its Asian Development Outlook.
Economies with high corporate or household debt, in particular, would be most vulnerable to the shock of higher interest rates, the report said.
It said that "possible shifts in trade and tax policies, especially policy changes being discussed in the US, could create uncertainty for business, investment and export growth in developing Asia."
The report did not mention Trump by name.
Trump accused China of unfair trade practices, such as manipulating its currency. He has threatened to impose punitive tariffs on imports from China.
Trade is expected to be a big part of the agenda during meetings between Trump and Chinese President Xi Jinping (習近平) in Florida yesterday and today.
If the US does introduce stiffer taxes and tariffs, they would not take effect until the middle of next year at the earliest, the report said.
The more immediate risk is that the tough US talk encourages other advanced economies to consider similar policies, which would end up squelching international trade, it said.
The ADB forecast that China's economic growth would slow to 6.5 percent this year and 6.2 percent next year from last year's 6.7 percent, a 30-year low.
China is due to release its first-quarter GDP figures on April 17.
In India, growth would accelerate to 7.4 percent this year and 7.6 percent next year, from 7.1 percent last year, as the country rebounds from a one-off demonetization of its highest-value currency bills that "temporarily stymied commerce," the report said.
Comments will be moderated. Keep comments relevant to the article. Remarks containing abusive and obscene language, personal attacks of any kind or promotion will be removed and the user banned. Final decision will be at the discretion of the Taipei Times.