China operations improving, says Uni-President
Food and retail conglomerate Uni-President Enterprises Corp (UPE, 統一企業) yesterday said it expects its Chinese food manufacturing arm's profitability to improve with better inventory control and management.
"We have exerted a lot of effort into digesting inventory at our Chinese subsidiary, as we have seen some of our peers struggle to remain competitive because of inappropriate stock control," UPE chairman Alex Lo (羅智先) told an investors' conference in Taipei.
UPE sells instant noodles and beverages in China through its Chinese subsidiary, Uni-President China Holdings Ltd (UPC, 統一中國控股).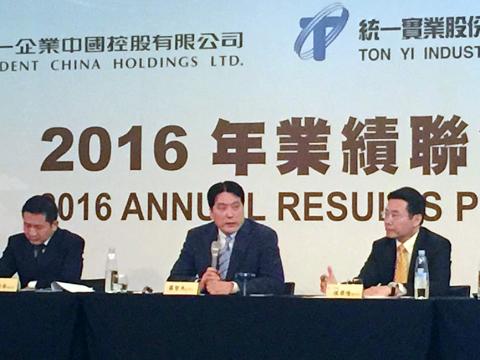 Uni-President Enterprises chairman Alex Lo, center, speaks at an investors' conference in Taipei yesterday.
Photo: Yang Ya-min, Taipei Times
As part of its business restructuring plan in China, UPE has been working on reducing inventory since the third quarter of last year.
"Feedback from our local distributors [in China] has remained positive and we will continue to cut inventories this year," Lo said.
UPC posted significant declines in sales and profits last year, with revenue sliding 5.1 percent to 20.99 billion yuan (US$3.04 billion) and net income plunging 27.2 percent to 607 million yuan. Earnings per share (EPS) were 0.14 yuan for last year.
UPC attributed the declines to fierce competition in China's beverage market and its ongoing inventory digestion. But the company said UPC's gross margin would recover this year as beverage inventory has reduced to a comfortable level.
Tainan-based UPE also counts on several Taiwanese listed subsidiaries, including President Chain Store Corp (PCSC, 統一超商), Ton Yi Industrial Corp (統一實業) and TTET Union Corp (大統益), as its major income sources.
UPE posted a consolidated net profit of NT$23.68 billion for last year, up 9.6 percent from the previous year. Net profit attributable to the parent company was NT$14.53 billion, up 2.97 percent annually, with EPS of NT$2.56, company data showed.
Consolidated sales edged down 0.7 percent to NT$413.36 billion.
Gross margin climbed to 33.3 percent from 33.1 percent.
Among UPE's units, PCSC remained the largest profit contributor last year, accounting for 30.9 percent of the company's overall profit, compared with 26.2 percent in the previous year.
PCSC, the nation's biggest convenience chain store operator, saw its net profit grow 19.4 percent year-on-year to NT$9.84 billion, or EPS of NT$9.46, data showed.
UPE plans to allocate nearly NT$16.2 billion for capital expenditure this year, which would be flat compared with last year, chief financial officer Tony Su (蘇崇銘) said.
The funds will mainly be used for investment in software, as the company has almost reached its near-term target for capacity expansion, UPE said.
Comments will be moderated. Keep comments relevant to the article. Remarks containing abusive and obscene language, personal attacks of any kind or promotion will be removed and the user banned. Final decision will be at the discretion of the Taipei Times.