PSA Group to buy Opel for US$2.3bn
'CONFIDENT': PSA is hoping that Opel's about 1.2 million in annual sales solidifies its own rebound by spreading the costs for vehicle development across a larger network
PSA Group agreed to buy General Motors Co's (GM) Opel unit in a transaction valued at 2.2 billion euros (US$2.3 billion), creating Europe's second-largest automaker in a bid to better compete in the region's saturated market.
PSA is to pay 1.3 billion euros for Ruesselsheim, Germany-based Opel and its UK nameplate Vauxhall, with the rest for the financing unit, which is being evenly split with BNP Paribas SA, GM and the Paris-based maker of Peugeot and Citroen vehicles, the automakers said in a joint statement.
The combination of the two companies is expected to generate annual savings of 1.7 billion euros by 2026, through combining development, sharing investment in factories and purchasing. Implementing the savings measures is likely to cost about 1.6 billion euros.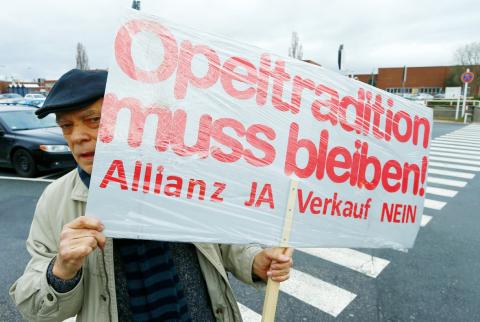 A man yesterday holds a placard in German that reads "Opel tradition must remain — alliance yes — sale no," in front of the Opel car factory in Ruesselsheim, Germany.
Photo: Reuters
GM, which has owned Opel for about 90 years, is cutting ties after the division missed a target to break even last year, contributing to losses that have totaled about US$9 billion since 2009.
PSA is betting that adding Opel's about 1.2 million in annual deliveries will solidify its own turnaround by spreading the costs for developing new vehicles across a larger network.
Job and production cuts are likely as the two companies offer a similar slate of mass-market cars from high-cost locations in Germany, France and the UK.
"We are confident that the Opel/Vauxhall turnaround will significantly accelerate with our support," PSA chief executive officer Carlos Tavares said in the statement, adding that Opel is expected to generate an operating profit margin of 2 percent by 2020 and 6 percent by 2026.
"Having already created together winning products for the European market, we know that Opel/Vauxhall is the right partner," he said.
For GM, the deal continues efforts to shed underperforming assets and does not come without cost. The US automaker is to take a non-cash charge of between US$4 billion and US$4.5 billion related to the transaction, which is expected to close by the end of the year.
GM is on the hook for much of Opel's pension obligations and is to pay PSA 3 billion euros to settle certain retirement plans. Still, the deal would free up about US$2 billion in cash, which GM plans to use for share buybacks, according to the statement.
PSA is to pay about 1.13 billion euros in cash for Opel and the French automaker's share of acquiring the financing unit. An additional 650 million euros is to be financed by issuing to GM warrants in PSA shares, which can be exercised after five years.
The two companies would also be aligned through an ongoing agreement for Opel to supply its Australian Holden unit, as well as the Buick brand with certain models.
The deal would reinstate PSA as Europe's second-biggest carmaker after Volkswagen AG, pushing it past Renault SA following a steady decline in market share in recent years.
After streamlining operations following a 2014 bailout by the French state and Dongfeng Motor Corp, Tavares is shifting focus to growth.
His vision for a combination of PSA and Opel is to create a "European champion" by slashing costs, combining development efforts and exploiting the appeal of German engineering.
With the addition of Opel, PSA is set to control 16 percent of the European auto market, putting it behind only Volkswagen's 24 percent.
The deal is the second run at linking the two companies after savings from a purchasing and development cooperation project fell short of expectations, prompting Detroit-based GM to sell its 7 percent stake in its French counterpart in 2013.
Still, that cooperation is now starting to pay off.
Last month, Opel unveiled the new Crossland X compact sport utility vehicle (SUV), which shares underpinnings with PSA's Citroen C3 hatchback. A larger Opel SUV is set to follow later this year, which will be built at a PSA facility in France.
At Opel, Tavares is to seek to replicate the turnaround he engineered at PSA, including cutting jobs, freezing pay and eliminating slow-selling, unprofitable models.
The French company went from net losses starting in 2012 to profit in 2015, and generated 2.7 billion euros in cash last year.
This year, for the first time since 2011, the company is to pay a dividend.
Comments will be moderated. Keep comments relevant to the article. Remarks containing abusive and obscene language, personal attacks of any kind or promotion will be removed and the user banned. Final decision will be at the discretion of the Taipei Times.