Indonesia mining policy shift sparks fresh turmoil
A controversial U-turn on mineral exports has sparked turmoil in Indonesia's key mining sector, providing a fresh headache for firms struggling to work in Southeast Asia's biggest economy.
Despite sitting atop some of the world's most abundant natural resources, successive governments have failed to take advantage of its vast riches, with critics blaming badly thought-out and nationalistic policies that make the country an uncertain place to invest.
The latest overhaul has sparked a potentially damaging standoff with one of the US' biggest miners and a major investor in the country.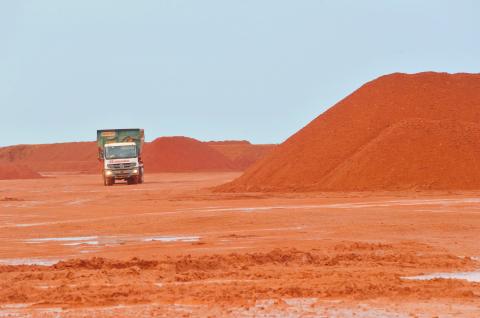 A truck drives past piles of bauxite materials at a mine belonging to Harita group in Kendawangan, West Kalimantan, on Borneo island on Feb. 13
Photo: AFP
Jakarta in January relaxed a 2014 landmark ban on shipments of raw mineral ores, which was originally aimed at spurring the domestic smelting industry, but led to mine closures, job losses and a fall in government revenues.
While some firms may stand to benefit from the rollback, it has infuriated companies that invested large amounts on operations for smelting.
In addition, the government asked firms to sign new permits that critics say offer less protection, triggering a standoff with US giant Freeport-McMoRan Copper & Gold Inc, which has stopped shipments from its huge copper and gold mine in the country's east.
The move is the latest in a series of regulatory changes from the government that have caused jitters among miners, with some foreign firms choosing to exit Indonesia rather than deal with such an unpredictable environment.
"One of the inherent problems in the Indonesian mining industry over the last few years has been the lack of consistency in government policy, with the government changing its mind quite regularly and unexpectedly," Jakarta-based lawyer and mining expert Bill Sullivan said.
Authorities have raised taxes and royalties on shipments and demanded that foreign miners reduce the stakes in their Indonesian operations to less than half.
In June last year, US gold mining giant Newmont Mining Corp sold its share in an Indonesian mine to local investors after more than three decades, citing more onerous regulations as a factor.
The world's second-biggest miner, Rio Tinto PLC, is reportedly considering walking away from its stake in Freeport's vast Grasberg mine in Papua Province owing to the current row.
Economic nationalists have pushed putting stricter conditions on foreign firms in a bid to reap greater profits, but critics fear the moves could backfire by scaring off investors at a time when policymakers are already struggling to reignite slowing economic growth.
Freeport, which says it has given the government more than US$16.5 billion in taxes and other payments since 1991, has refused to bow to Jakarta's demands to sign a new deal without additional assurances, stopped work at Grasberg — the world's second-biggest copper pit — started laying off workers and threatened to sue the government.
"Right now we are at an impasse with the government," Freeport chief executive Richard Adkerson said in Jakarta last month.
Under the changes to Indonesia's export ban, miners would be able to export nickel ore and bauxite as well as concentrates of other minerals under certain conditions, instead of having to process them in Indonesia.
For investors who have already plowed money into constructing smelters, the U-turn on the ban is a disaster.
"People who have invested millions of dollars in Indonesia can only pray now that the government will revoke the regulation," Indonesia's Processing and Smelting Companies Association executive director Jonatan Handojo said.
Despite the outcry, officials are unrepentant and the finance ministry predicts the reversal could boost government coffers by US$3.12 billion in the next five years.
Even if the government does not hit such an optimistic target, the policy overhaul may still turn out to be a good thing in the long term, Sullivan said.
"Indonesia is clearly being forced to rethink its position regarding resource nationalism and focus more on economic reality," he said.
Comments will be moderated. Keep comments relevant to the article. Remarks containing abusive and obscene language, personal attacks of any kind or promotion will be removed and the user banned. Final decision will be at the discretion of the Taipei Times.