As oil industry perks up, concerns grow over future staffing
Doug Lucas stood outside a Houston energy conference early one morning last month handing out resumes and hoping to catch the eye of oil executives with a handwritten sign that read: "Petroleum Eng hungry for job interview."
Cut from oilfield services firm Halliburton Co in 2015, the 26-year-old temporarily turned to lawn care and cable TV sales jobs while finishing a master's degree in petroleum engineering at the University of Southern California.
Despite using a depression-era sign to ask for introductions, he is hopeful demand for petroleum professionals will come back.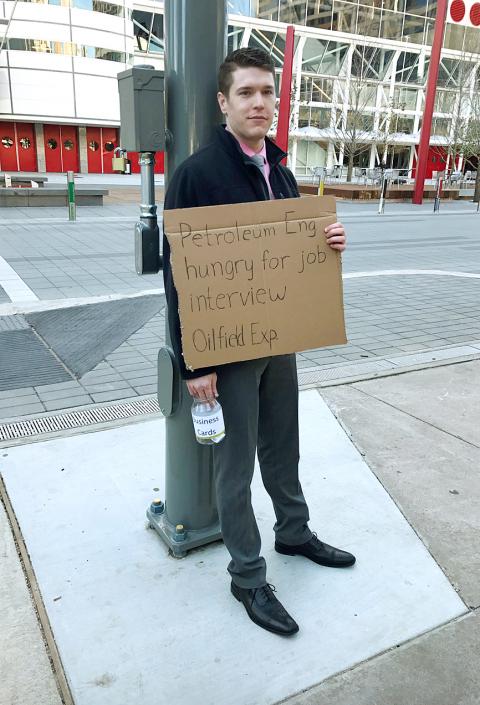 Petroleum engineer Doug Lucas holds up a sign soliciting job interviews outside the NAPE oil and gas expo in Houston, Texas, on Feb. 16.
Photo: Reuters
"It's way better now than it was six or eight months ago," he said optimistically, as he solicited business cards from convention-goers.
After a rout that began in 2014 due to a worldwide glut of oil caused in part by a US shale boom, crude prices have rebounded from 13-year lows hit a year ago and have held above US$50 per barrel since the start of the year, when major oil producers curbed output as part of a global deal.
The higher prices have spurred an uptick in drilling activity as energy companies boost spending plans to take advantage of the crude price recovery.
However, massive cuts that cost about 440,000 jobs globally at energy companies in the past two years have left veteran workers and skilled job candidates without a clear future in oil and gas.
Unable to find work in their chosen field, some have turned their sights to technology or other industries, adding a note of uncertainty to next week's CERAWeek industry conference in Houston.
The outflow of experienced workers and a lack of hiring as oil companies drive to become more efficient could put future production growth in jeopardy, should a nascent upturn in the industry accelerate, experts have said.
In western Canada, companies resuming production of crude oil are struggling to rehire rig crews following job and pay cuts.
A University of Houston global survey of laid off oil workers found that 25 percent had already moved to another industry and another 55 percent were considering it. Only 13 percent of those polled late last year had found energy jobs.
"A good number of people are 'lost' to other industries," said Christiane Spitzmueller, the study's principal investigator. "This will translate into high recruitment and training costs for new hires."
The combined US and Canadian rig counts, which can be an indicator of the health of the industry, jumped from 618 one year ago to 1,091 as of Friday, a sign of the upturn in drilling in North America.
In western Canada, where many more rigs are working this year than last, drillers said a lack of experienced employees could slow their work later this year — or force them to pay higher salaries to lure workers back.
Edmonton, Canada-based Jomax Drilling (1988) Ltd CEO Dan Block said contractors he once employed took jobs in other industries, including construction.
"We are scrambling to bring people back," Block said.
Halliburton, an oil services firm that had about 50,000 employees at the end of last year, down from more than 80,000 two years earlier, is now holding job fairs in regions where there is an uptick in drilling activity, such as Colorado, Texas, New Mexico, Oklahoma and Ohio, the company said.
"We're seeing a good balance of both experienced and entry-level candidates," spokeswoman Emily Mir said, adding that there is strong applicant interest in open positions in the Permian Basin — one of the hottest drilling areas in the US due to its favorable economics.
The US oil and gas industry will need to fill 1.9 million new jobs through 2035, consultancy IHS Markit Ltd said.
However, filling those jobs could prove a challenge, management consultancy KCA said in study published in September last year.
"A rapid run-up is going to be a really difficult spot for the industry, versus a slow ramp up where you can start to lure people back over time," KCA CEO David Skinner said.
The study by KCA, Pink Petro and Glexnet, which polled 1,000 laid off and working energy professionals, found that 45 percent of executives or board members said they were ready to seek other job options, retire or are unsure what they will do post-downturn.
Karsten Thompson, chair of the petroleum engineering department at Louisiana State University, said the loss of experienced executives will hurt the training of professional staff.
"Students will miss out on mentorship," he said in an interview.
If experienced workers are less inclined to stay through another economic cycle, younger workers might already be placing bets on other careers.
Before oil prices crashed, the University of Texas placed more than 90 percent of students who majored in petroleum engineering into oil and gas jobs. In 2015 and last year, that number fell by about one-quarter.
Louisiana State University said its engineering graduates from May last year reported fewer than 50 percent had found jobs, down from about 63 percent in 2013.
"In the past, for students with petroleum engineering jobs who couldn't find full-time work, there were always opportunities to work offshore as a roustabout," Louisiana State University associate director for employment services Trey Truitt said. "In this economy, those jobs haven't been available either."
Despite a potential shortage of engineers, companies could still grow their businesses using existing staff augmented with newer technology and contract labor, KCA said.
Automation and technologies that require more software know-how are changing the skills needed by industry workers.
"Someone who majors in petroleum engineering with a minor in computer science, that might be the ideal engineer going forward," energy consultancy Graves & Co founder John Graves said.
Viet Pham, 23, a 2015 graduate from the University of Texas at Austin's Petroleum Engineering program, said if he could do it all over again, he would have majored in mechanical engineering or computer science.
"Petroleum is volatile," he said. "It's great when it works."
Comments will be moderated. Keep comments relevant to the article. Remarks containing abusive and obscene language, personal attacks of any kind or promotion will be removed and the user banned. Final decision will be at the discretion of the Taipei Times.