China's new watchdog to tackle shadow banking
FINANCIAL RISKS: Guo Shuqing favors having one set of rules for overseeing asset management products to improve transparency and expose hidden financing
China's new banking regulator yesterday outlined wide-ranging efforts to rein in financial risks, including clamping down on shadow lending and curbing funding for property speculation.
Speaking at his first news conference in Beijing, China Banking Regulatory Commission Chairman Guo Shuqing (郭樹清) said he would coordinate with other financial authorities, including the central bank, to plug loopholes in regulations for cross-market financial products and update rules that no longer fit with banks' current business and risk management.
"Banks, trusts, fund management firms, brokerages and insurers all have asset-management operations, but because they have different regulators and are subject to different rules, there's been some chaos," Guo said at a press briefing with his deputies in Beijing.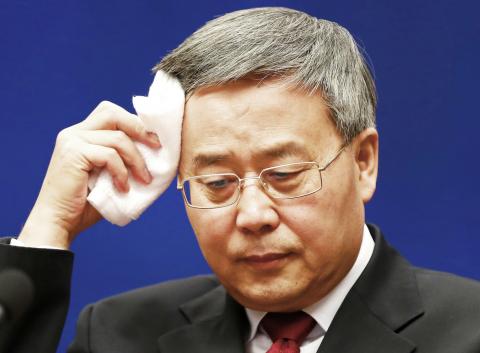 China Banking Regulatory Commission Chairman Guo Shuqing wipes his brow as he speaks to reporters during his first news conference in Beijing yesterday.
Photo: EPA
Having one set of rules for asset management products would enable each regulator to "set higher standards," as well as "improve transparency and expose the financing hidden in the shadows," he said.
Guo, 60, dismissed speculation that he might lead efforts to revamp the nation's financial regulators, calling it a "rumor."
In addition to the joint rules, the banking regulator is drafting a separate regulation on banks' wealth-management products (WMPs), commission Vice Chairman Cao Yu (曹宇) said at the briefing.
WMPs, which promise higher returns than deposits and are viewed by many investors as a form of risk-free savings, surged to 29.1 trillion yuan (US$4.2 trillion) as of Dec. 31, Cao said.
The surge in WMPs, most of which were issued by lenders, has accounted for a significant proportion of the expansion in shadow banking in China, leading the central bank to start including the products in its macro-prudential assessment framework this quarter to better gauge credit growth and potential financial-system risks.
The commission also plans to require banks to move more shadow business onto their books as some lenders' off-balance sheet assets have outgrown those accounted for on their financial statements.
"It's not that we are against diversified business at banks, but we should focus more on their risks," said Wang Zhaoxing (王兆星), another commission vice chairman .
The regulator wants to ensure that bank credit goes to the real economy and lenders make adequate provisions against potential risks, Wang said.
Meanwhile, Guo said the commission was paying close attention to real-estate bubbles as 45 percent of the nation's new loans last year went to the property sector, with most going to personal mortgages.
Even as the overall leverage for Chinese households was "not high," the fast growth in their borrowing over the past two years is worth monitoring, he said.
Comments will be moderated. Keep comments relevant to the article. Remarks containing abusive and obscene language, personal attacks of any kind or promotion will be removed and the user banned. Final decision will be at the discretion of the Taipei Times.