BlackRock supports gold to hedge overlooked risks
Investors should probably be a little more nervous, according to one BlackRock Inc money manager.
US stocks have rallied to records amid signs of stabilization in China's economy and bets that US President Donald Trump will boost US infrastructure spending, roll back regulations and cut taxes.
While the stock surge and below-average volatility show investors are more optimistic, markets are underpricing global political risks, said Russ Koesterich, who helps manage the US$41 billion BlackRock Global Allocation Fund.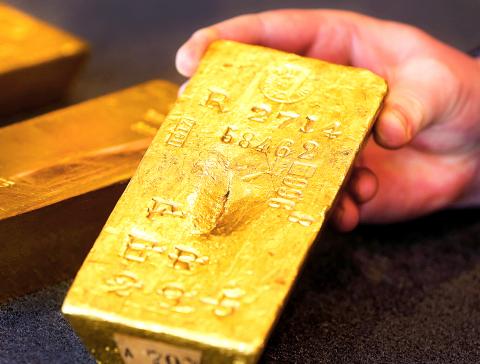 The oldest gold bar of the German Bundesbank from the year 1917, with a value of US$472,700, is displayed in the bank's headquarters in Frankfurt, Germany, on Feb. 9.
Photo: AP
He recommends gold as insurance.
Looming elections in Europe and political uncertainty in the US are among developments that could shift investor sentiment, Koesterich said.
Adding to the threat is the potential impact of Britain's exit from the EU and a debt crisis in Greece. Such concerns have helped boost haven demand for gold, which has climbed almost 8 percent this year after posting the worst quarter since 2013.
"That hiding political risk is not reflected in markets," Koesterich said in a telephone interview Thursday. "People are not that nervous, and there are things that could go wrong, particularly when you think about all of the political risks. That adds to the argument for having gold in a portfolio."
On Friday, bullion for immediate delivery was 0.1 percent lower at US$1,238.15 an ounce at 2:14pm in Singapore, according to Bloomberg generic pricing. It rose 0.3 percent from last week's US$1,234.60.
The Bloomberg Commodity Index, which measures returns on raw materials, fell 0.4 percent, posting its fourth weekly drop in five.
In the US, stocks this week posted the longest rally in three years, inflation indicators have risen and the labor market is strengthening.
"Some of this rally has been based on the fact that investors expect some stimulus from Washington in the form of tax cuts and potentially fiscal stimulus as well," Koesterich said. "What happens if it doesn't come?" While "there will be some stimulus, the timing, the form and the magnitude are still very much uncertain."
Other metals:
Spot silver rose 2.6 percent from last week's US$17.61 per ounce to US$18.07 per ounce.
Copper for immediate delivery rose 2.4 percent this week to settle at US$6,015 per tonne.
Comments will be moderated. Keep comments relevant to the article. Remarks containing abusive and obscene language, personal attacks of any kind or promotion will be removed and the user banned. Final decision will be at the discretion of the Taipei Times.