Brazil accelerates rate cuts to fight crisis
STIMULUS: The central bank is hoping the 0.75 percentage point rate cut would spur the economy, which analysts expect to grow by only 0.5% this year
Brazil on Wednesday sharply sped up the pace of its interest rate cuts as Latin America's biggest economy struggles to escape its worst recession in a century.
It is the third month running that the Bank of Brazil has cut its benchmark interest rate to try to spur activity in its hard-up giant economy.
The bank's monetary policy committee said in a statement it was cutting the rate by 0.75 percentage points — a sharper acceleration than most analysts had expected.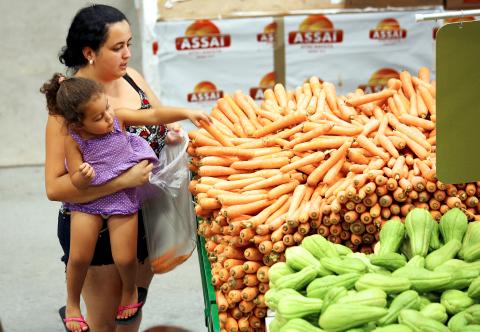 Consumers shop for food at a market in Sao Paulo, Brazil, on Wednesday.
Photo: Reuters
It justified the move by saying inflation was falling, but the economy was not showing signs of recovering soon.
"Considering the basic situation, the balance of risks and the wide range of information available, the committee unanimously decided to reduce the interest rate to 13 percent" from 13.75 percent, it said.
That rate is still one of the world's highest, despite cuts of 0.25 percentage points each in October and November.
Brazilian President Michel Temer is trying to push tough public spending reforms through congress to strengthen the public finances.
However, analysts said that his reforms face risks from an unstable political climate and ongoing corruption investigations targeting top politicians.
Temer has low popularity ratings. He took over as president in May to replace Dilma Rousseff, who was later impeached.
There is also uncertainty over the impact that US president-elect Donald Trump's policies could have on Latin America after he takes office on Friday next week.
Experts surveyed by the Brazilian central bank last month forecast the economy would grow only by about 0.5 percent this year.
It has shrunk by nearly 4 percent over each of the past two years.
Comments will be moderated. Keep comments relevant to the article. Remarks containing abusive and obscene language, personal attacks of any kind or promotion will be removed and the user banned. Final decision will be at the discretion of the Taipei Times.