FSC to set up sandbox for fintech innovation
The Financial Supervisory Commission (FSC) yesterday said that it would prioritize implementing a regulatory sandbox to promote experimentation with innovative technology in the financial sector to speed up development of new services.
The commission is drafting a separate bill that would lift a number of regulatory limits and capitalization requirements that have hampered experimentation by developers of financial technology, or fintech.
Developers participating in the sandbox would be exempted from regulations that are normally imposed on established financial institutions, such as banks, securities brokerages and insurers, the commission said.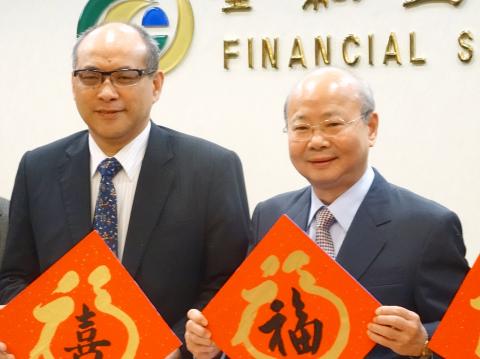 Financial Supervisory Commission Chairman Lee Ruey-tsang, right, and Vice Chairman Cheng Cheng-mount hold "lucky" signs at a news conference in Taipei yesterday.
Photo: Wang Meng-lun, Taipei Times
Approval for experimentations are to be evaluated by the commission and a panel of industry experts to determine whether the proposed concepts are innovative and if they would create improved services for consumers.
Under the new initiative, fintech developers may apply to participate in the sandbox and carry out experiments for six months with the option to extend them by three months.
The sandbox provides an environment for the feasibility of new fintech concepts while minimizing risks to consumers and the market, Department of Planning Director-General Jean Chiu (邱淑貞) said at a news conference
Although developers are generally exempt from administrative penalties during the experimentation period, the commission reserves the right to adjust the rules on a case-by-case basis, Chiu said.
Once a concept passes muster and meets its experimentation objectives, the commission would begin drafting the necessary amendments that would pave the way for a new service to advance from sandbox and made available to consumers, she said.
The initiative could pave the way for non-financial companies to move into areas that were previously available only to financial companies, she added.
For instance, by passing current regulations that prohibit all institutions apart from banks from accepting deposits, online computer game operators could apply to experiment with their own stored-value cards, while online peer-to-peer lending platforms could make their service more secure by requiring cash deposits from users, the commission said.
The sandbox is open to a wide variety of applicants, including technology and non-financial companies, as well as partnerships and individuals, the commission said.
However, Chiu said there are still regulatory boundaries that may not be crossed by experimentation, adding that the commission would provide legal advisory on current regulations for prospective participants.
Meanwhile, FSC Chairman Lee Ruey-tsang (李瑞倉) said that the commission is planning to mete out heavier penalties for infractions by companies, following an eventful year of high-profile scandals in the financial sector.
Financial companies would be fined for each instance of infraction, as opposed to being levied a single fine under a broader category, such as contravention of rules against internal audit and controls, Lee said.
Banks would face separate fines for violations related to yuan-linked target redemption forwards for breaking rules against forging clients' financial reports and lapses in verifying customer information.
Comments will be moderated. Keep comments relevant to the article. Remarks containing abusive and obscene language, personal attacks of any kind or promotion will be removed and the user banned. Final decision will be at the discretion of the Taipei Times.