UK's May to target trade post-Brexit on India visit
British Prime Minister Theresa May is to lead a delegation of small and medium-sized businesses to India next month as part of efforts to bolster trade with countries outside the EU as Britain prepares to leave the bloc.
The Nov. 6 to Nov. 8 trip, May's first bilateral visit to a country outside Europe since she took office in July, is to be in pursuit of her ambition of forging a new global role for Britain after it leaves the EU, May's Downing Street office said in a statement.
The European Commission is responsible for trade negotiations for the EU and some countries have said they will not negotiate a new deal for Britain until it has actually left the bloc.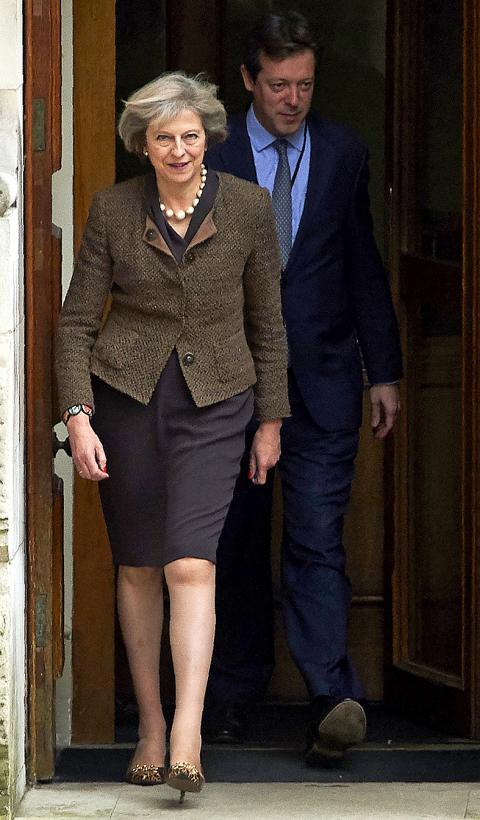 British Prime Minister Theresa May, left, walks out of the Foreign and Commonwealth Office in London on Friday.
Photo: AFP
"As we embark on the trade mission to India we will send the message that the UK will be the most passionate, most consistent, and most convincing advocate for free trade," May was quoted as saying.
She said past trade missions had focused on big business, but she wanted to adopt a new approach and would take small and medium companies from every region of the UK.
Among them is to be Geolang, a cybersecurity company based in Cardiff in Wales, Torftech, a biomass energy company based in southeast England, and Telensa, a company focused on high-tech wireless street lighting systems, based in Cambridge.
May is to hold talks with Indian Prime Minister Narendra Modi during her visit, and the two heads of government will together inaugurate a tech summit in New Delhi.
British Secretary of State for International Trade Liam Fox is to join the visit, during which a number of commercial deals are expected to be signed.
Comments will be moderated. Keep comments relevant to the article. Remarks containing abusive and obscene language, personal attacks of any kind or promotion will be removed and the user banned. Final decision will be at the discretion of the Taipei Times.