Samsung's Galaxy Note 7 woes deepen
DYNASTIC WEB: The Note 7 dilemma has shone a spotlight on Samsung's founding family at a time when it is navigating through a tricky generational power transfer
Samsung Electronics Co yesterday said it was "adjusting production" of its recalled Galaxy Note 7 smartphone, after key distributors stopped offering replacements because of continued safety concerns.
The announcement marked another major setback for the South Korean electronics giant, following its decision on Sept. 2 to issue a global recall for 2.5 million Note 7s because of complaints that the lithium-ion battery exploded while charging.
Over the past week, reports emerged of replacement units also catching fire, prompting US telecommunications firm AT&T and German rival T-Mobile to announce on Sunday a halt to recall exchanges pending further investigations.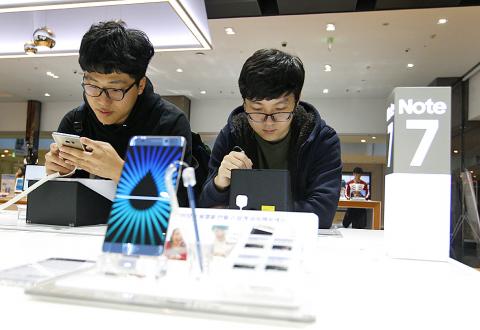 South Korean high-school students yesterday try out Samsung Galaxy Note 7 smartphones at a Samsung Electronics Co shop in Seoul, South Korea.
Photo: AP
Their announcement prompted a steep dive in Samsung's share price, which fell more than 4 percent at one point in morning trade. It recovered later to close the day at 1.68 million won (US$1513.74) — down 1.52 percent.
The market was also reacting to a South Korean media report that Samsung had temporarily shut down Note 7 production lines after discussions with consumer safety regulators from South Korea, the US and China.
"We are in the process of adjusting production volumes," Samsung said in a written response to the report.
The company said the move was "to enhance quality control and to enable thorough investigations following the recent cases of Galaxy Note 7 explosions."
IMAGE PROBLEM
With images of charred phones flooding social media, the unprecedented recall has proved a humiliation for a firm that prides itself as an icon of innovation and quality.
The recall process initially stumbled with some mixed messages, but seemed to be on track until last week when the reports of replacement phones catching fire began to emerge.
AT&T said it would still offer customers the option to exchange Galaxy Note 7s for another Samsung smartphone or other device of their choice, while T-Mobile said it was halting sales of the Note 7, as well as the exchanges.
"It's all got very serious again," said S.R. Kwon, an analyst at Dongbu Securities.
"They could just pull the Note 7 off the market, but the real concern is that it might not even end there," Kwon said. "It will damage Samsung's brand image and also affect the sales of other Galaxy smartphones."
AT&T is the South Korean company's third-biggest customer, while T-Mobile's parent is No. 4, according to estimates compiled by Bloomberg.
MANAGEMENT SPOTLIGHT
The trouble with the Note 7 and the handling of the recall, which analysts say could cost up to US$2 billion, has placed a spotlight on Samsung's management at a time when it is navigating a tricky generational power transfer within its founding Lee family.
Industry experts have criticized the Lee dynasty for controlling the vast group through a complex web of cross shareholdings, although they directly own only about 5 percent of total stocks.
And Samsung is also under pressure from one of its shareholders, the activist US hedge fund Elliott Management run by billionaire Paul Singer.
In a detailed proposal unveiled last week, Elliott laid out a strategy for streamlining Samsung, splitting the company in two, dual-listing the resulting operating company on a US exchange and paying shareholders a special dividend of 30 trillion won (US$27 billion).
Elliott argued that Samsung, currently a maze of listed and unlisted companies with a notoriously opaque ownership and management structure, had suffered from a long-term undervaluation in the equity market.
Despite all its problems, Samsung on Friday issued a stronger-than-expected operating profit forecast for the third quarter, thanks largely to strong sales of memory chips and OLED display panels.
In a separate statement yesterday, Samsung Electronics Taiwan Co (台灣三星) said that the process of its refunds and replacements of the Galaxy Note 7 in the Taiwanese market will remain unchanged for the time being.
Additional reporting by staff writer
Comments will be moderated. Keep comments relevant to the article. Remarks containing abusive and obscene language, personal attacks of any kind or promotion will be removed and the user banned. Final decision will be at the discretion of the Taipei Times.