AT&T considers stopping Note 7 sales over safety
COPYCAT: Federal judges restored a US$119.6 million verdict in favor of Apple in a patent infringement suit against the South Korean firm over mobile features
AT&T Inc is considering stopping all sales of Samsung Electronics Co's flagship Galaxy Note 7 over concerns about the smartphone's safety, according to a person familiar with the situation.
A final decision was expected as soon as Friday, said the person, who asked not to be identified, because the deliberations are private.
AT&T spokesman Fletcher Cook declined to comment.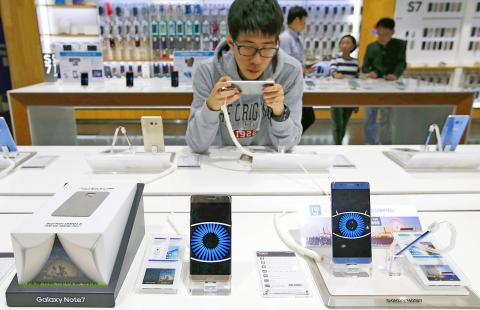 A man tries out a Samsung Electronics Co Galaxy Note 7 smartphone at the firm's headquarters in Seoul on Friday.
Photo: EPA
Like many competitors, the second-largest US wireless carrier is already offering alternative smartphones to people who return Note 7 devices.
Samsung started replacing the Note 7 last month because of a flaw in its battery that can lead to overheating and pose a burn hazard to customers.
Airlines have banned passengers from using the smartphones on flights, and the evacuation of a Southwest Airlines Co airplane earlier this week was blamed on smoke caused by a replacement device.
AT&T's move would be a further blow to Samsung. The wireless carrier is the third-biggest customer of the South Korean company, according to estimates compiled by Bloomberg.
Samsung is already facing a bill that analysts estimate stretches into billions of US dollars for the recall that it announced last month of 2.5 million Note 7 handsets.
Samsung said in a statement posted on its Web site that it understands the concern of the carriers and consumers over the newly released replacement Note 7 devices and the company will share findings as soon as possible.
Separately, a US appeals court on Friday handed Apple Inc a victory in one of its battles with Samsung, reinstating a US$119.6 million verdict in favor of the iPhone maker for patent infringement.
In the latest twist in a series of patent lawsuits between the smartphone giants, the federal judges ruled 8-3 in a rehearing of the case, reversing a panel of the same court in February.
Apple's lawsuit contends that Samsung infringed on patents for "slide to unlock" and autocorrection, among others.
Apple had sought about US$2.2 billion at trial, only to have a jury award the California-based company US$119.6 million.
The case is separate from another suit in which Samsung was ordered to pay US$548 million for patent infringement to Apple and whose appeal is set for a hearing next week in the US Supreme Court.
Additional reporting by AFP
Comments will be moderated. Keep comments relevant to the article. Remarks containing abusive and obscene language, personal attacks of any kind or promotion will be removed and the user banned. Final decision will be at the discretion of the Taipei Times.