Google launches Pixel, smart home products
Alphabet Inc's Google on Tuesday announced a new "Pixel" smartphone and a suite of new consumer electronics products for the home, planting itself firmly in the hardware business and challenging Apple Inc's iPhone at the high end of the US$400 billion global smartphone market.
The string of announcements — including the US$649 Pixel, a smart speaker for the living room dubbed "Home," a virtual reality headset and a new Wi-Fi router — is the clearest sign yet that Google intends to compete head-to-head with Apple, Amazon.com Inc and even manufacturers of smartphones using its own Android mobile operating system.
Company executives, echoing Apple's longstanding philosophy, said they were striving for tighter integration of hardware and software.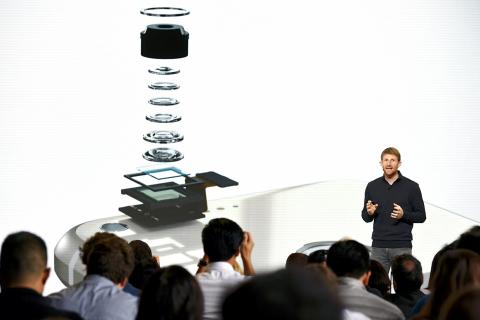 Brian Rakowski, a vice president of product management for Alphabet Inc's Google, discusses the new camera inside the Google Pixel smartphone during a Google product launch event in San Francisco, California, on Tuesday.
Photo: Bloomberg
"The thinking is that if we can work on hardware and software together, we can innovate much better," Google hardware chief Rick Osterloh said in an interview, citing a recent reorganization that united once-disparate hardware teams.
Under the new structure, the company has begun to take a much more integrated approach to things like supply chain management and design, said Mario Queiroz, a vice president of product management.
"The learnings from one product are benefiting another product," he said.
Unlike earlier Google phone efforts under the Nexus brand, the Pixel devices are designed and developed by Google from the start, although Taiwan's HTC Corp (宏達電) will serve as the contract manufacturer.
Taking another page from the Apple playbook, Google said it would work exclusively with a single carrier in the US, Verizon Communications Inc, on the Pixel, emulating Apple's agreement to launch the original iPhone with AT&T Inc.
That deal gave Apple unprecedented control over the look of the smartphone and how it worked.
Pixel comes in two sizes and its high-end camera is one of few distinguishing features, analysts said.
The smartphones come in black, blue and silver, and will be able to get up to a seven-hour charge in 15 minutes.
Pre-orders began on Tuesday.
"Aside from the camera, the new Google Pixels are pretty undifferentiated compared to Samsung and iPhone seventh generation phones," industry analyst Patrick Moorhead said.
Google's strategy of licensing Android for free and profiting from embedded services, such as search and maps, made Android the dominant mobile operating system with about 89 percent of the global market, according to market researcher International Data Corp.
However, Apple still rules the high end of the market, and Google has long been frustrated by the emergence of many variations of Android and the inconsistent experience that has produced.
Pushing its own hardware will likely complicate its relationship with Android licensees, analysts said.
Google opened the event on Tuesday by touting the Google Assistant, the company's voice-
activated artificial intelligence system and its answer to Apple's Siri and Amazon's Alexa.
The assistant will be embedded into the Pixel and Home products, and is being positioned as the central feature in a family of integrated hardware and software products.
Meanwhile, Google's "Daydream View" virtual-reality headset will be available next month for US$79, in time for the end-of-year shopping season.
Home will also be available next month for US$129, including a six-month trial of ad-free YouTube.
Comments will be moderated. Keep comments relevant to the article. Remarks containing abusive and obscene language, personal attacks of any kind or promotion will be removed and the user banned. Final decision will be at the discretion of the Taipei Times.