TransAsia targets turnaround next year
TransAsia Airways Corp (復興航空) has set its sights on breaking even in the first quarter of next year as it winds down V Air (威航), its struggling low-cost carrier subsidiary.
TransAsia said it would launch five new routes before the end of this year to meet the demands of a rapidly changing Southeast Asian travel market, and expects earnings to stabilize as cost-saving measures begin to take effect.
The carrier yesterday launched new flights to Sendai, Japan, and Chiang Mai, Thailand, with plans to initiate flights to Fukuoka, Japan, Bangkok and Busan, South Korea, before the end of the year.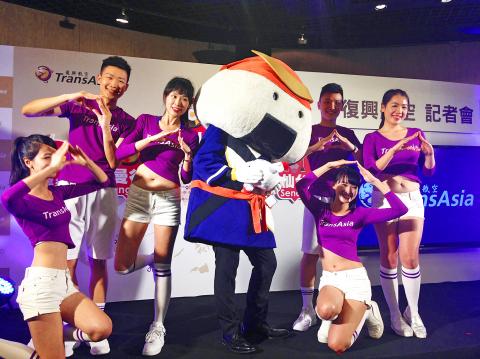 TransAsia Airways flight attendants yesterday take part in a news conference in Taipei to promote a new route between Taipei and Sendai, Japan.
Photo: CNA
Flights to Macau, which were canceled this month, are slated to resume in the first quarter of next year, the company said at a news conference in Taipei.
"We are expecting a turnaround as the new routes bring improvements to sales and operating efficiency," chairman Vincent Lin (林明昇) said, adding that he was upbeat on the Japanese market.
The company is anticipating disposal gains and reductions in recurring costs from four Airbus A330 aircraft, following its decision to halt the operations of V Air for one year beginning this month.
V Air had recorded monthly losses of about NT$40 million to NT$50 million (US$1.27 million to US$1.59 million), Lin said.
Disposal arrangements are to be finalized next month or in December, he said.
"Operations should begin to stabilize in the first quarter of next year following a restructuring," Lin said.
He said that TransAsia's London-based insurers had agreed to cut premiums by 73 percent in light of significant improvements to flight safety, which would cut its annual costs by NT$200 million.
TransAsia has begun to step out of the shadow of two fatal crashes in July 2014 and in February last year, which claimed 91 lives, as the company has fulfilled 67 recommendations by the US-based Flight Safety Foundation, and has been incident-free for the past 18 months under the Civil Aeronautics Administration's supervision, Lin said.
"Our flight safety is recognized and employees' morale has been boosted," he said.
TransAsia shares gained 0.16 percent to NT$6.10 in Taipei trading yesterday.
Comments will be moderated. Keep comments relevant to the article. Remarks containing abusive and obscene language, personal attacks of any kind or promotion will be removed and the user banned. Final decision will be at the discretion of the Taipei Times.