Taiwanese workers safe following Vietnam protest
The Ministry of Foreign Affairs has said that Taiwanese working at Formosa Plastics Group's (台塑集團) steel plant in Vietnam and their family members are all safe after a protest by 3,000 activists outside the plant on Sunday.
The ministry said its representative office in Vietnam made contact with Formosa Ha Tinh Steel Corp (台塑河靜鋼鐵興業) when the protest began on Sunday morning and found that public security personnel stationed there had closed the plant and taken measures to maintain order during the protest.
"The protesters have now left, and the workers at the steel plant and their family members are all safe and their property secure," the ministry said.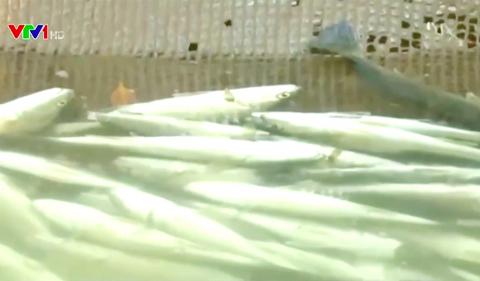 Dead fish float at a fish farm in Ha Tinh Province, Vietnam, in an image from video provided by Vietnam's VTV in April.
Photo: VTV / AP
It said its representative office contacted Vietnam's public security department and asked it to send more personnel to the Formosa Ha Tinh Steel complex to protect the workers there and safeguard the lives and property of all Taiwanese businesses operating in Ha Tinh.
Vietnam responded by promising to handle the issue proactively, the ministry said.
Meanwhile, Representative to Vietnam Richard Shih (石瑞琦) and Formosa Ha Tinh Steel vice general manager Chang Fu-ning (張復寧) separately told reporters that no Formosa Plastics personnel at the plant were in danger and that the plant did not report any property damage.
The protest by angry fishermen and activists from Quang Binh, Nghe An and Ha Tinh provinces followed in the wake of several hundred people from those regions last week filing a lawsuit against Formosa Plastics for compensation over its plant's pollution, which led to massive fish deaths in waters off Vietnam's coast.
Formosa Ha Tinh Steel Corp, located in the Vung Ang Economic Zone in central Ha Tinh, was said by the Vietnamese government to have discharged pollutants that killed fish along a 209km stretch of coastline.
The pollution has caused more than 40,000 Vietnamese fishermen to lose or nearly lose their jobs and an additional 176,000 people in Vietnam have been indirectly affected by the environmental disaster, according to one estimate.
In a settlement with the Vietnamese government, Formosa Plastics said it accepted full responsibility for the incident, and it has pledged US$500 million to compensate those affected and to clean up the environment.
When asked about the protests, Formosa Plastics said it would defer to the Vietnamese government in handling of the situation.
Comments will be moderated. Keep comments relevant to the article. Remarks containing abusive and obscene language, personal attacks of any kind or promotion will be removed and the user banned. Final decision will be at the discretion of the Taipei Times.