Three firms eyeing Proton: sources
At least three firms — including Peugeot maker PSA Group — have signalled interest in a deal with ailing Malaysian carmaker Proton Holdings Bhd, people familiar with the matter said, as the faded brand's owner seeks to sell a stake in a company once seen as a symbol of the nation's drive to industrialize.
The search by Malaysian conglomerate DRB-Hicom Bhd is the latest in a long series of efforts to find a partner to help revive Proton after years of profit being hit by sub-par cars, poor aftersales service and tough competition. The government gave Proton 1.5 billion ringgit (US$365 million) in financial aid in April.
"Peugeot confirms it is responding to a request for proposals initiated by Proton and its shareholder," a Paris-based spokesman for PSA said.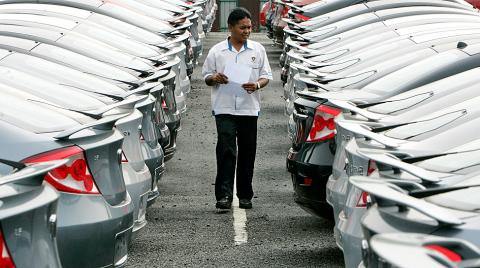 A worker checks new Proton cars at a yard near Kuala Lumpur on Jan. 12, 2009.
Photo: Reuters
The spokesman declined to comment on what PSA's response would be, or the nature of the proposals requested by Proton.
One person familiar with the matter said that Proton sent partnership proposals to nearly 20 carmakers earlier this year.
Japan's Suzuki Motor Corp and French carmaker Renault SA are also responding to Proton's request for proposals, people said.
While Proton's fortunes have waned since its 1990s heyday, the potential attraction for foreign partners would be access to its underutilized manufacturing capacity: Proton has two manufacturing facilities in Malaysia that can make up to 400,000 cars annually, though it sold just 102,000 cars last year.
Foreign firms could look to make their cars in Proton's facilities to export around the economic growth hotspots of Southeast Asia, people familiar with the matter said.
DRB-Hicom has not ruled out selling a majority stake in Proton, the people said, and may also consider selling British sports and racing car brand Lotus, owned by Proton.
Proton and DRB-Hicom did not immediately respond to requests for comment.
Founded in 1983 during former Malaysian premier Mahathir Mohamed's industrialization push, Proton at its peak boasted a domestic market share of 74 percent in 1993, largely rebadging cars of foreign manufacturers to sell in the domestic market.
However, after years of being plagued by quality and service issues, and with a move to produce its own models failing to impress consumers, its market share has plummeted to about 15 percent.
DRB does not disclose Proton financial statements separately, but said it incurred a pre-tax loss of 821.27 million ringgit last fiscal year, largely due to losses from Proton.
While agreeing to support Proton in April, the government said its business model was not sustainable, and that it needed to find a strategic foreign partner.
Industry players say Proton also badly needs research and development support from a foreign partner if it is to build a viable future strategy.
Comments will be moderated. Keep comments relevant to the article. Remarks containing abusive and obscene language, personal attacks of any kind or promotion will be removed and the user banned. Final decision will be at the discretion of the Taipei Times.