'Britwurst' sausages find a niche in Austria
Austrians love their sausages and are fiercely proud of their homegrown wurst. However, this has not daunted Englishman Richard Holmes in his quest to get locals to love his bangers too.
"I started doing it because I really missed British sausages from home," the 31-year-old said, as he demonstrated his sausage-making technique. "That and fish, a nice bit of cod."
Based in Vienna, he sells his handmade "Britwurst" creations to a growing number of restaurants and shops and at markets — although not yet to Austria's ubiquitous sausage stands.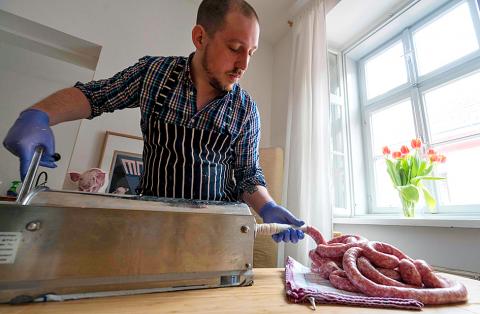 Richard Holmes prepares his homemade British-style sausages named "Britwurst" in his Vienna apartment on March 16.
Photo: AFP
However, looking the archetypal British butcher with his blue-and-white apron, chunky forearms and sausage-sized fingers, he said it has been a struggle to get established.
The worst thing, he said as he minced great pale chunks of pork — "shoulder for the taste, 'coz it's got the good fat" —- was the "absolute nightmare" of Austrian bureaucracy.
"Rules are rules at the end of the day, but I really struggled with them a lot. At one point I thought, this is too much, I'm going to give up on this," the Essex native said.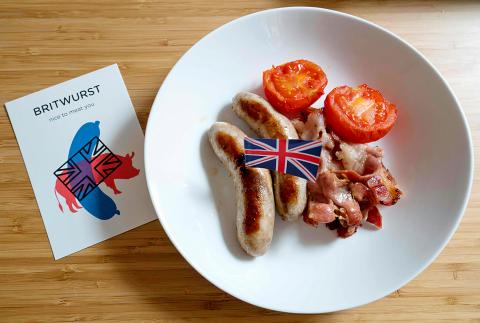 British-style sausages named "Britwurst" homemade by Richard Holmes are plated up in his apartment in Vienna on March 16.
Photo: AFP
You cannot just turn up in Austria and start making and selling sausages. The authorities needed documented proof that Holmes knows what he is doing.
So he went back to England for a weekend sausage-making course and returned armed with 50kg of sausages in his suitcase — and the vital piece of paper.
To get a business license, Holmes went to see the "Master Butcher of Vienna," who did not know one end of a British sausage from another, but who allowed him to operate.
The proviso though from this wurst overlord was that he would not "tread on the toes" of local producers by selling Austria-type sausages like the kaesekrainer (with melted cheese inside) or bratwurst.
Not that this restriction has cramped his style. Alongside the standard British favorites, Holmes has innovated, using anything from pistachios to jalapeno peppers to add a twist to his creations.
However, Holmes said his main selling point is not that his sausages are British, but they are a quality, all-natural product, unlike the cheaper end of the local market.
"If you visit a wuerstelstand you've got no idea where they come from," he said. "Your typical frankfurter from the supermarket has all sorts of stuff in it."
His meat comes from local, free-range pigs that are slaughtered at Hoedl Fleischerei, Vienna's last butcher that kills on site, and which then makes the sausages to Holmes' recipes.
Down at Vienna's Karmeliter market where Holmes is every Saturday, he is doing brisk business. Only about 10,000 Brits live in Austria, plus roughly 1,000 Irish, a third of them in Vienna, so Holmes cannot rely just on expats. Indeed, a majority of his customers are locals.
"He doesn't use any additives, it's not industrially manufactured and it's handmade. And he does these interesting combinations. It's absolutely fantastic," said Nilufar, a regular local customer.
"British sausages have a totally different taste and structure to German and Austrian one. And, of course, the English breakfast is famous. He's got a nice little niche here," Markus said.
However, not everyone is impressed.
"British cooking? No thanks," said a passing pensioner, disgusted.
Comments will be moderated. Keep comments relevant to the article. Remarks containing abusive and obscene language, personal attacks of any kind or promotion will be removed and the user banned. Final decision will be at the discretion of the Taipei Times.