China, not Silicon Valley, is cutting edge in mobile tech
China's large Internet firms not only rival the US' in scale, but draw most of their revenue not from ads, but from spending on games, services and goods sold on innovative apps
Snapchat and Kik, the messaging services, use bar codes that look like drunken checkerboards to connect people and share information with a snap of their smartphone cameras. Facebook is working on adding the ability to hail rides and make payments within its Messenger app. Facebook and Twitter have begun live-streaming video.
All of these developments have something in common: The technology was first popularized in China.
WeChat (微信) and Alipay (支付寶), two Chinese apps, have long used the bar-code-like symbols — called QR codes — to let people pay for purchases and transfer money. Both let users hail a taxi or order a pizza without switching to another app. The video-streaming service YY.com has for years made online stars of young Chinese people posing, chatting and singing in front of video cameras at home.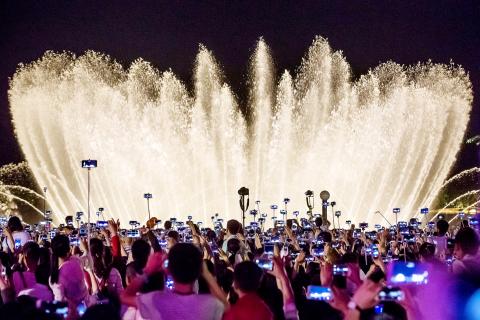 People record a water fountain show with their mobile phones in Hangzhou, Zhejiang Province, China, on May 1.
Photo: Reuters
Silicon Valley has long been the world's tech capital: It birthed social networking and iPhones and spread those tech products across the globe. The rap on China has been that it always followed in the Valley's footsteps as government censorship abetted the rise of local versions of Google, YouTube and Twitter.
However, China's tech industry — particularly its mobile businesses — has in some ways pulled ahead of the US. Some Western tech companies, even the behemoths, are turning to Chinese firms for ideas.
"We just see China as further ahead," said Ted Livingston, the founder of Kik, which is headquartered in Waterloo, Ontario.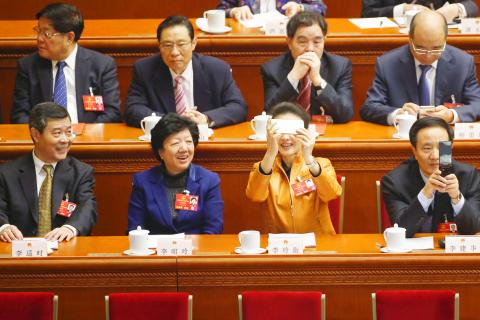 Delegates play with mobile phones during the closing ceremony of China's National People's Congress at the Great Hall of the People in Beijing on March 16.
Photo: Reuters
The shift suggests that China could have a greater say in the global tech industry's direction. Already in China, more people use their mobile devices to pay their bills, order services, watch videos and find dates than anywhere else in the world. Mobile payments in the country last year surpassed those in the US. By some estimates, loans from a new breed of informal online banks called peer-to-peer lenders did, too.
China's largest Internet companies are the only ones in the world that rival the US' in scale. The purchase this week of Uber China by Didi Chuxing (滴滴出行) after a protracted competition shows that at least domestically, Chinese players can take on the most sophisticated and largest startups coming out of the US.
The future of online payments and engagements can be found at Liu Zheng's (劉正) noodle shop in central Beijing. Liu Xiu'e (劉秀娥), 60, and her neighbor, Zhang Lixin (張立新), 55, read about the noodle shop on WeChat. Then they ordered and paid for their lunches and took and posted selfies of themselves outside the restaurant, all using the same app.
Liu Zheng, who is not related to Liu Xiu'e, said the automated ordering and payments meant he could cut down on wages for waiters.
"In the future, we will only need one waiter to help in the restaurant and one to help with seating," he said.
Industry leaders point to a number of areas where China jumped first. Before the online dating app Tinder, people in China used an app called Momo (陌陌) to flirt with nearby singles.
Before Amazon chief executive Jeff Bezos discussed using drones to deliver products, Chinese media reported that a local delivery company, S.F. Express (順豐快遞), was experimenting with the idea. WeChat offered speedier in-app news articles long before Facebook, developed a walkie-talkie function before WhatsApp and made major use of QR codes well before Snapchat.
Before Venmo became the app for millennials to transfer money in the US, both young and old in China were investing, reimbursing each other, paying bills and buying products from stores with smartphone-based digital wallets.
"Quite frankly, the trope that China copies the US hasn't been true for years, and in mobile it's the opposite: The US often copies China," said Ben Thompson, the founder of the tech research firm Stratechery. "For the Facebook Messenger app, for example, the best way to understand their road map is to look at WeChat."
The biggest advantage for China's tech industry, according to many analysts, is that it was able to fill a vacuum after the country essentially created much of its economy from scratch following the end of the Cultural Revolution in 1976. Unlike in the US, where banks and retailers already have strong holds on customers, China's state-run lenders are inefficient and retailers never expanded broadly enough to serve a fast-growing middle class.
Many Chinese also never bought a personal computer, meaning smartphones are the primary — and often first — computing device for the more than 600 million who have them in China.
"The US was first to credit cards, and everyone there has a personal computer. But China, where everyone is on their phones all the time, is now ahead in mobile commerce and mobile payments by virtue of leapfrogging the PC and credit cards," Thompson said.
Chinese companies also approach the Internet in a different way. In the US, tech firms emphasize simplicity in their apps; but in China, its three major Internet companies — Alibaba (阿里巴巴), Baidu (百度) and WeChat parent Tencent (騰訊) — compete to create a single app with as many functions as they can stuff into it.
On Alibaba's Taobao (淘寶) shopping app, people can also buy groceries, purchase credits for online games, scan coupons and find deals at stores nearby. Baidu's mapping app lets users order an Uber, reserve a restaurant or hotel, order in food, buy movie tickets and find just about any type of store nearby.
Between fees for its services and money it makes through online games, WeChat manages to generate US$7 in revenue per user each year, according to Nomura.
The app has roughly 700 million users, more than the total number of smartphone users in China, in part because some users are outside the country and in part because people have multiple accounts.
Much of that comes not from ads, as it might in the US, but from spending on games, services and goods sold on the app.
Those models may not translate from one market to the other, but the two can still borrow from each other, said Carmen Chang (周一華), a partner at the venture capital firm New Enterprise Associates.
"China was able to develop a lot of innovative business models, which arose in a different kind of economy," said Chang, who spends time in China and in Menlo Park, California. "Whether or not we admit it here in Silicon Valley, it's had an impact on us and our thinking."
Additional reporting by Cao Lin
Comments will be moderated. Keep comments relevant to the article. Remarks containing abusive and obscene language, personal attacks of any kind or promotion will be removed and the user banned. Final decision will be at the discretion of the Taipei Times.