Australia's Fairfax flags US$760m in impairment charges
Leading Australian publisher Fairfax Media yesterday said it would post nearly A$1 billion (US$760 million) in writedowns in the fiscal year ending June, while it announced the creation of a new reporting segment for its lucrative online real-estate division.
Like its global peers, the group, which owns the Sydney Morning Herald and the Age newspapers, has had to slash jobs and costs owing to falling circulation and advertising revenue.
Most of the A$989 million pre-tax impairment charges for the 2016 fiscal year come from major Australian metropolitan newspapers, accounting for A$484.9 million. Impairments for smaller, community media amounted to A$408.8 million.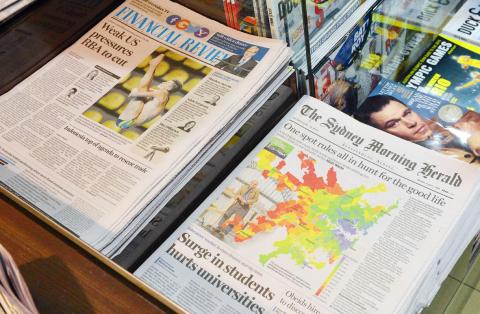 Copies of the Australian Financial Review and the Sydney Morning Herald are displayed on a news stand in Sydney yesterday.
Photo: AFP
Fairfax said its property listings division Domain Group would form a separate reporting segment.
Fairfax CEO Greg Hywood said the adjustments "reflect the market realities that the metro business is facing," adding that the media divisions in the rural, regional and New Zealand divisions were also experiencing challenges.
However, with speculation swirling that the Domain separation could eventually lead to the group selling the real-estate division or newspapers, Hywood said the unit "remains an integral and growing part of Fairfax."
"We have no plans for that to change," he added in a statement.
Fairfax, which has newspaper, radio and digital interests, is the main rival in Australia to News Ltd, Rupert Murdoch's Australian empire, which is also suffering from falling revenues.
The group has shed thousands of staff and restructured its operations in recent years to be more digital-facing as the Internet and new publishers, such as Google, disrupt its business model.
"The traditional business of Fairfax is facing all the same challenges as in the UK and America; that side of it is probably not worth very much money now," media analyst Peter Cox said.
"Therefore they've written off on it in that regard, and Domain is where their value lies at the moment," Cox said.
Fairfax reported net profit of A$27.4 million for the six months to Dec. 31 last year. Domain recorded operating profits of A$65.7 million for the period, out of a total of A$161 million for the whole group.
Fairfax's New Zealand division, which is currently in talks to merge with publisher NZME, is set to record a writedown of A$95.3 million. The company reports its full-year results on Wednesday next week.
Comments will be moderated. Keep comments relevant to the article. Remarks containing abusive and obscene language, personal attacks of any kind or promotion will be removed and the user banned. Final decision will be at the discretion of the Taipei Times.