Uber China, Didi said to merge
RIDE-HAILING SERVICE: The deal calls for Uber to sell its Chinese operation and receive a 20% stake in Didi, which is to make a US$1 billion investment in Uber
Uber Technologies Inc is to sell its China business to Didi Chuxing (滴滴出行), the dominant ride-hailing service in the country, people familiar with the matter said.
The deal ends a costly battle between the two firms, which competed for customers and drivers.
The valuation of the combined business will be US$35 billion, said the people, who asked not to be named because the details are not public.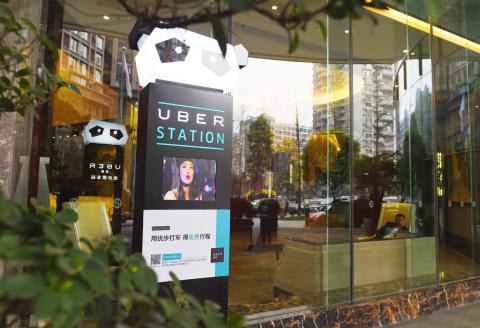 An Uber Station stands outside a hotel in Chengdu in China's Sichuan Province on March 20.
Photo: AFP
Investors in Uber China, an entity owned by San Francisco-based Uber, Baidu Inc (百度) and others, will receive a 20 percent stake in Didi, the people said. Uber will continue to operate its own app in China for now.
In addition to Uber selling its Chinese subsidiary, the complex deal involves Didi making a US$1 billion investment in Uber, people familiar with the matter said.
Didi had no immediate comment, and Uber declined to comment.
"As an entrepreneur, I've learned that being successful is about listening to your head as well as following your heart," Uber CEO Travis Kalanick wrote in a blog post. "I have no doubt that Uber China and Didi Chuxing will be stronger together."
Last year, China's ride-hailing leaders Didi and Kuaidi (快遞) joined forces, creating a homegrown juggernaut. The merged company, Didi Chuxing, brought together backers Alibaba Group Holding Ltd (阿里巴巴) and Tencent Holdings Ltd (騰訊), the nation's most valuable Internet businesses. Apple Inc joined in this year with a US$1 billion investment in Didi.
The Chinese government passed a new rule last week that legalized ride-hailing services, paving the way for further expansion of these businesses.
However, Uber's investors had been clamoring for the company to sell off its China assets. Both Uber and Didi have been spending significantly to compete in China.
Uber has lost more than US$2 billion in the country, people familiar with the matter said. It was profitable in developed markets in the first half of last year, they said.
"Uber and Didi Chuxing are investing billions of dollars in China, and both companies have yet to turn a profit there," Kalanick wrote in the blog post.
"Getting to profitability is the only way to build a sustainable business that can best serve Chinese riders, drivers and cities over the long term," he said.
The purchase of Uber's China business may complicate Didi's alliance with other ride-hailing startups around the world.
Didi had agreed to work with the US's Lyft Inc, India's Ola and Southeast Asia's Grab to create a global force to take on Uber.
Grab CEO Anthony Tan said in a statement yesterday that the impending deal is a victory for Didi and underscores how the ride-hailing business favors domestic players.
In China, Uber ventured where few US technology companies have succeeded. In 2005, Yahoo Inc made a similar deal, selling its businesses in China to Alibaba, along with a US$1 billion investment — one of the Silicon Valley company's best bets.
While Uber will walk away from operations in China, it is taking a significant stake in the largest player there.
By shedding its massive losses in China, the move will help Uber clear the path for an eventual initial public offering.
Comments will be moderated. Keep comments relevant to the article. Remarks containing abusive and obscene language, personal attacks of any kind or promotion will be removed and the user banned. Final decision will be at the discretion of the Taipei Times.