IMF head calls for quick end to Brexit uncertainty
'DISAPPOINTING': Christine Lagarde said that before the referendum on Brexit, the IMF, which this week cut its global growth forecast by 0.1%, was preparing to raise it
IMF managing director Christine Lagarde yesterday called for quick action to end uncertainty over Britain's vote to leave the EU, which she said is dampening global economic growth.
The IMF cut this year's global growth forecast by 0.1 percentage points to 3.1 percent in a report released this week due to the shockwaves of the British vote, Lagarde said.
Lagarde spoke after meeting with Chinese Premier Li Keqiang (李克強) and leaders of the World Bank, the WTO and other bodies ahead of this weekend's gathering of finance officials of the G20 major economies.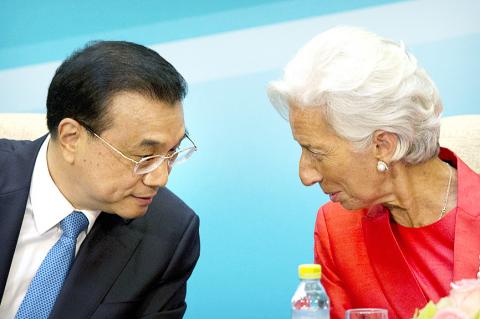 Chinese Premier Li Keqiang, left, and IMF managing director Christine Lagarde, right, talk to each other during a press conference for the 1+6 Roundtable on promoting economic growth in Beijing yesterday.
Photo: AP
"Our first and immediate recommendation is for this uncertainty surrounding the terms of Brexit to be removed as quickly as possible so that we know the terms of trade and the ways in which the United Kingdom will continue to operate in the global economy," Lagarde said at a news conference.
Lagarde said that before the British vote, the IMF had been preparing to raise its global growth forecast by 0.1 percentage points due to improvement in Japan, China and the 17-country eurozone.
"Unfortunately, the United Kingdom decided to go for Brexit," said Lagarde, a former French finance minister. "This is disappointing."
At the conference, Li called on world leaders to step up macroeconomic policy coordination.
Li said the sound fundamentals of China's economy remained unchanged despite facing strong downward pressures, and that the government's debt ratio was not high, although he added that the government would step up regulation of the shadow banking sector and monitor local government fiscal practices.
He also addressed concerns that China is promoting its exports through aggressive policy support with the yuan weakening against the US dollar.
"Given the financial fluctuations as a result of Brexit, China will advance the market-based reform of the exchange rate," Li said.
"We will maintain a basically stable exchange rate at a balanced level and we will not engage in a trade or currency war," he added.
The final statement from this weekend's gathering in Chengdu in China's southwest "will be under scanner for any hints of policy coordination — monetary or fiscal," Citigroup Inc economists said in a report.
US Secretary of the Treasury Jacob Lew, speaking to reporters in Athens before flying to China, downplayed the likelihood of joint action.
"I don't think this is a moment that calls for the kind of coordinated action that occurred during the Great Recession in 2008 and 2009," Lew said. "It really is a moment where we each need to do what we can to ensure that where growth is soft it gets stronger and that prospects for the medium- and long-term are improved."
Lew appealed for close integration of Britain and the EU in the event of a split.
"The best outcome is one that maximizes the integration of the UK and Europe and — because it's likely to be a process that, at best, goes well beyond weeks or months — to have the nature of the discussion to be characterized by amicable, pragmatic engagement where the focus is on maximizing integration and cooperation," Lew said.
Additional reporting by Reuters
Comments will be moderated. Keep comments relevant to the article. Remarks containing abusive and obscene language, personal attacks of any kind or promotion will be removed and the user banned. Final decision will be at the discretion of the Taipei Times.