Vietnam's PM says economy might miss GDP target this year
A crippling drought in Vietnam will probably cause the government to miss its 6.7 percent growth target this year, adding to pressure on new Vietnamese Prime Minister Nguyen Xuan Phuc as he seeks to reassure investors on his economic reforms.
The economy would need to expand 7.6 percent in the second half to achieve its full-year goal, Phuc said in a prepared speech he is due to deliver to lawmakers in Hanoi next week and obtained by Bloomberg News.
The target "will be hard to reach," he said.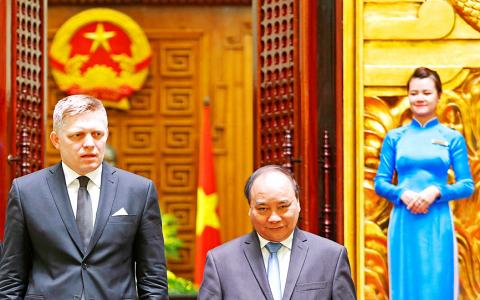 Vietnamese Prime Minister Nguyen Xuan Phuc, right, and Slovak Prime Minister Robert Fico walk out from their meeting at the Government Office in Hanoi.
Photo: Reuters
Phuc took office in Vietnam in April amid the worst drought in 30 years and falling oil revenue. That is putting the brakes on an economy that has otherwise benefited from a booming export industry as companies such as Samsung Electronics Co opened factories to build and ship smartphones.
Growth was little changed at 5.6 percent in the second quarter. Rising food prices are also pushing up inflation, which might exceed the government's 5 percent target this year, according to Phuc's speech.
The prime minister was initially due to deliver his address at the opening of the National Assembly yesterday.
"There is still some chance that we can reach the GDP growth target this year" if government ministries and provinces redouble efforts to boost output in industries from agriculture to manufacturing and construction, Phuc said in the speech.
Phuc's warning is a signal that Vietnam will not repeat past mistakes of growth at all costs that led to inflation soaring to 23 percent inflation in 2011, Hong Kong-based Natixis SA senior economist for emerging Asia Trinh Nguyen said.
"He accepts the impact of adverse weather events and subdued global demand for not achieving growth targets," she said. "This means that at least Vietnam is not returning to its fast growth at all costs approach, which caused inflation to spike massively, the currency to weaken, sharp economic slowdown and inefficient allocation of resources."
The Vietnamese Communist Party-dominated National Assembly yesterday opened its first session following May elections to elect the country's top leaders. The 494 deputies are widely expected to reappoint Vietnamese President Tran Dai Quang, Prime Minister Nguyen Xuan Phuc and National Assembly Chairwoman Nguyen Thi Kim Ngan.
Only 20 of the deputies are not members of the ruling Vietnamese Communist Party.
The Vietnamese economy of 92 million people has moderated in the first half, expanding 5.5 percent, compared with 6.3 percent growth in the same period last year, according to the World Bank.
The World Bank report released on Tuesday attributed the slower growth to the impact of a severe drought on agricultural production and slower industrial growth.
Additional reporting by AP
Comments will be moderated. Keep comments relevant to the article. Remarks containing abusive and obscene language, personal attacks of any kind or promotion will be removed and the user banned. Final decision will be at the discretion of the Taipei Times.