ATM suspects in Moscow, police track third
MACHINES FROZEN: First Commercial Bank, Taiwan Cooperative, Chunghwa Post and Chang Hwa Commercial halted cash withdrawals after the thefts
Two Russians suspected of involvement in thefts from First Commercial Bank (第一銀行) ATMs have returned to Moscow, while investigators are tracking a third, police said yesterday.
In an internal probe, First Commercial Bank found that 38 ATMs at its branches were hacked over the weekend using malware, causing the machines to continuously give out money.
More than NT$80 million (US$2.49 million) — NT$10 million more than previously reported — was stolen, the bank said.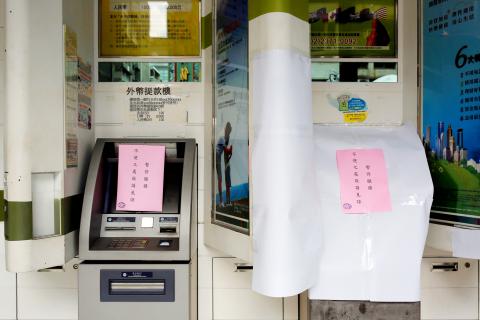 Signs announcing a suspension of services are displayed on ATMs at a First Commercial Bank branch in Taipei yesterday.
Photo: Tyrone Siu, Reuters
Police said two suspects, identified only as Berezovskiy, 34, and Berkman, 28, boarded an early-morning flight to Hong Kong on Monday before First Commercial Bank resumed operations.
Police reported information on the duo to Interpol to help track them down.
After reviewing surveillance videos, police said they had found a third suspect, whom they said remained in Taiwan to help launder the money.
The video allegedly shows Berkman, in a blue hat, talking with Berezokvskiy, in a white shirt, while a third man can be seen behind them wearing a bucket hat and carrying a plastic bag.
Investigators said that First Commercial Bank's ATMs were hacked by three different malware programs: one called cnginfo.exe, which read information from the machine; one called cngdisp.exe, which executed the money-delivery process; and one called sdelete.exe, which deleted the first two using a batch file called cleanup.bat.
A taxi driver yesterday told police that the two of the suspects had been his passengers.
The two hailed his cab on Dehui Street in Taipei's Zhongshan District (中山) and went to a location near First Commercial Bank's Guting branch on Roosevelt Road, the driver said.
The men said they were Italian, he said, adding that they were carrying backpacks and chatting casually during the ride, although he could not understand the conversation.
Police are seeking more witnesses.
Banking sources and officials have speculated on reasons the suspects had targeted Taiwan, with one possibility being the nation's high density of ATMs.
According to the Financial Supervisory Commission, there are 270,000 ATMs in Taiwan, averaging one for every 850 people.
ATM transactions account for about NT$9.6 trillion a year, while Taiwan is geographically small, meaning that thieves can save time and money traveling, the commission said.
Taiwanese are accustomed to cash transactions, so ATMs are often well stocked, the commission said, adding that the heists left no withdrawal records and did not link to a passbook, so the bank's main computer did not detect irregularities.
First Commercial Bank replaced a lot of its ATMs earlier this month, making them ideal targets, it said, adding that the operation was run over a weekend to take advantage of reduced security.
Meanwhile, a number of Taiwan's biggest state-run banks froze withdrawals at nearly 1,000 Wincor Nixdorf-supplied ATMs, the kind targeted by the thieves.
At least four state-run institutions — First Commercial Bank, Chang Hwa Commercial Bank (彰化銀行), Taiwan Cooperative Bank (合庫銀行) and Chunghwa Post Co (中華郵政) — suspended cash withdrawals at their ATMs as a precaution.
They did not say when the service would be restored, or whether the suspensions might affect their financial performance.
About 4 percent of the nation's 27,200 machines were affected.
Wincor said it had been informed about concerted attacks on its ATMs.
"Attacks follow a similar pattern, irrespective of their make or brand, and we, as well as the banks, are aware of them," a Wincor official in Germany told reporters by e-mail.
"The details of the attack are being examined by the police and banks, as well as experts from Wincor Nixdorf. To support the local teams we have sent security experts," the official said.
Additional reporting by Reuters
Comments will be moderated. Keep comments relevant to the article. Remarks containing abusive and obscene language, personal attacks of any kind or promotion will be removed and the user banned. Final decision will be at the discretion of the Taipei Times.