China's inflation eases, more stimulus expected
BELOW TARGET: The CPI rose by 1.9% last month, down from 2% in May and well below the target of 3%. Analysts expect the PBOC to cut interest and reserve rates
China's consumer inflation last month grew at its slowest pace since January as increases in food prices eased, while producer prices extended their decline, reinforcing economists' views that more government stimulus steps will be needed to support the economy.
The consumer price index (CPI) rose 1.9 percent last month from a year earlier, compared with a 2 percent increase in May, the National Bureau of Statistics said yesterday.
Analysts had expected a 1.8 percent gain, a Reuters poll showed.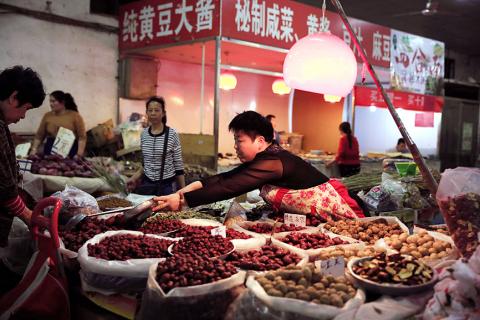 A dried goods seller reaches to help a customer at a market in Beijing, China, on May 10.
Photo: EPA
Consumer inflation has remained low compared with the official target of about 3 percent for this year, indicating persistently weak demand in the world's second-largest economy.
Food prices were up 4.6 percent in June, compared with a 5.9 percent gain in the previous month. Prices of China's staple meat, pork, rose 30.1 percent, compared with a 33.6 percent increase in May.
However, recent flooding in China "is likely to push vegetable and fruit prices higher in the coming months," ANZ economists Raymond Yeung (楊宇霆) and Louis Lam wrote in a research note.
Non-food prices inched up 1.2 percent last month, versus May's 1.1 percent gain.
"In our view, while China reiterates the importance of supply-side reform due to debt and overcapacity concerns, the authorities still need to stimulate demand in order to achieve its growth target," Singapore-based Commerzbank senior Asia emerging market economist Zhou Hao (周浩) said in a note.
The People's Bank of China (PBOC) last cut interest rates on Oct. 23, the seventh time since late 2014, as the government took steps to counter slowing economic growth.
China's leaders have set an economic growth target of 6.5 percent to 7 percent for this year.
The economy expanded 6.9 percent last year, its slowest pace in a quarter of a century.
A top government-backed think tank late last month forecast that consumer prices will likely rise 2 percent for the year, while the long decline in producer prices will ease.
"Of course, further policy easing is still on the cards, and we hold our view that the PBOC will cut both interest rates and reserve rate requirement this month," Zhou said.
Other economists say authorities should use fiscal policy to boost growth, adding that question marks remain over the effectiveness of further monetary easing.
Last month, the producer price index (PPI) dropped 2.6 percent from a year earlier.
Analysts had expected PPI to fall 2.5 percent.
The decline extended a falling streak to 51 consecutive months, though it continued to moderate, suggesting strains on companies' profits may be easing. The PPI eased 2.8 percent in May.
Producer prices for mining fell 8.2 percent last month from a year earlier, while raw materials dropped 6.1 percent.
China is due to release its second-quarter GDP data on Friday next week, along with figures for last month's industrial output, investment and retail sales.
Most analysts say GDP growth likely edged lower in the second quarter from 6.7 percent in the first on a year-on-year basis, with last month's data showing a slight loss of momentum from May.
The China Academy of Social Sciences predicted that the economy will grow about 6.6 percent this month, decelerating from last year.
Worries about a potential economic fallout from Britain's decision to leave the EU last month have reinforced expectations Beijing will roll out more policy support soon.
Comments will be moderated. Keep comments relevant to the article. Remarks containing abusive and obscene language, personal attacks of any kind or promotion will be removed and the user banned. Final decision will be at the discretion of the Taipei Times.