UK property panic reveals real-estate sector's frailty
The run on British property funds has drawn attention to the vulnerability of the commercial real-estate sector, which is largely funded by domestic banks and building societies, but increasingly by foreign banks and insurers.
UK banks and building societies had about £90 billion (US$117 billion) in credit extended to domestic commercial real estate at the end of last yer, according to a study by De Montfort University.
German, other international and US banks had £55 billion of exposure, having increased their investments in the sector since the 2008 financial crisis. Insurers, which prior to the crisis had barely any exposure accounted for £25.9 billion.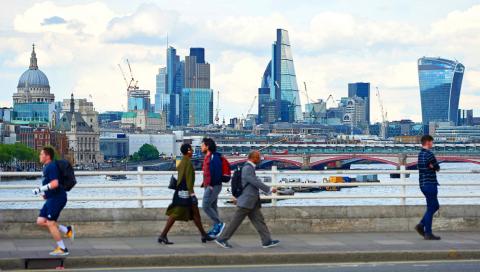 London's skyline is pictured from Waterloo Bridge as pedestrians walk by on May 24.
Photo: AFP
This means they could all take a hit if Britain's vote to leave the EU leads to a slowdown in business investment and depresses demand for offices and shopping centers.
"There is a lot of uncertainty at the moment," said Sonja Knorr, a funds analyst in Germany at ratings agency Scope. "Transactions in the UK have come to a halt."
The total value of UK outstanding commercial real-estate debt, stood at £183.3 billion as of Dec. 31 last year, the De Montfort study said.
The uncertainty has already caused panic among some commercial property investors.
In the past week, more than £18 billion of investor cash in commercial property has been frozen as funds run by M&G Investments, Standard Life Investments and Threadneedle Investments, among others, suspended trading.
While ordinary retail investors stand to lose most initially, some funds have been paring back the value they put on their property — a signal that a price drop is likely. That would hit the banks that lent or insurers invested in property.
Legal & General's fund arm and F&C Investments on Thursday both cut the value of their UK property funds to discourage withdrawals.
"Property is so much about confidence," said Danny Cox of broker Hargreaves Lansdown. "Once you have this kind of dent, it will take a time to come back."
While UK banks' exposure to the sector is high, accounting for 45 percent of lending last year, according to the De Montfort Commercial Property Lending Report, it is down from over two-thirds a decade ago.
For some foreign lenders, commercial property might still be attractive proposition because of the fall in the value of the pound.
"A 17 percent fall in the value of sterling makes investments in Britain interesting, despite the Brexit. That goes for UK property as well, an area we are now looking at," said Andreas Gruber, chief investment officer of German insurer Allianz, which is responsible for investments of 640 billion euros (US$708.7 billion).
"The lower value of the currency offers an attractive discount," Gruber said.
Comments will be moderated. Keep comments relevant to the article. Remarks containing abusive and obscene language, personal attacks of any kind or promotion will be removed and the user banned. Final decision will be at the discretion of the Taipei Times.