Change brings culinary revolution to Cuba
From its slow beginnings after the government allowed privately run restaurants five years ago, the Caribbean nation's food industry is booming thanks to creative chefs and 4 million tourists per year
At 65, Ramon Alfonso has seen a lot of history in his native Cuba, but this was his first time eating a vegan salad.
After decades of communist rule and centuries of eating meat and beans, the island is opening up — and so are its taste buds.
Sitting at Cafe Bohemia in Havana's Old Square, Alfonso gobbles lettuce, eggplant and cabbage.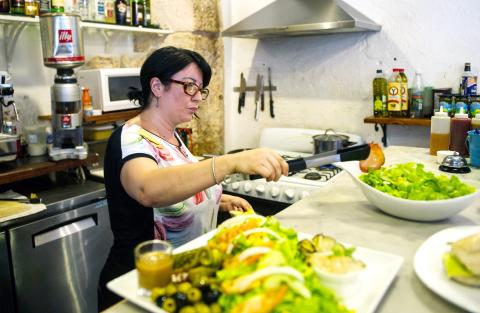 Italian chef Annalisa Gallina prepares a dish at the Cafe Bohemia restaurant in Havana on June 16.
Photo: AFP
There is not an ounce of pork or rice in sight, but in the searing heat, that suits him just fine.
"I don't know if I'll be eating this every day, because I'm not used to it, but it is tasty," he said. "And it's better for the health and for the weather in a tropical country like this."
Under the communist regime, the few diners who could afford to step out for dinner faced dreary state-run eateries with stodgy food and bad service.
Now those state-run restaurants are empty.
The government authorized privately run restaurants five years ago, and the change was slow to take effect. However, with more tourists coming to Cuba in the past year, its impact is clear to see now on the terraces of Havana.
At one state-run joint in Havana's old quarter, four waiters sit chatting with not a single one of the tables occupied.
A few dozen meters away, the privately run Cafe de las Letras is crammed with diners munching its trademark moussaka.
With eggplant smothered in meat and cheese, it is a novel dish for Cubans who were used to eating the vegetable fried in breadcrumbs.
At another of Havana's new wave of trendy restaurants, Versus 1900, the smell of rosemary fills the kitchen.
Chef Alain Prieto is seasoning mutton in a Peruvian-inspired fusion creation. Beside him, a colleague is cooking crispy vegetable tempura.
"International dishes have been added to the traditional creole cuisine," Prieto said.
"People are starting to eat differently," he added. "More refined."
In a kitchen workshop run by Cuba's Culinary Federation, its president Eddy Fernandez chucks a spot of oil in the pan and adds peppers, onion and garlic.
The shredded beef is precooked and goes into the pan to sizzle briefly.
A splash of white wine and it is ready: his modern take on the Cuban classic vaca frita, or fried cow.
Fernandez is helping train a new generation of Cuban chefs.
Demand for their services has surged in the past two years and standards have risen, he said.
The Cuban Ministry of Public Health said 45 percent of adults in Cuba are overweight and 12 percent are obese.
Chefs are wanted who can cook classic Cuban dishes, but "with less fat and sugar, little salt and more fruit and vegetables," Fernandez said.
When Italian chef Annalisa Gallina arrived in Cuba three years ago, salad was something stuck on the side of the plate as a decoration, Gallina said.
The country's cooking was still emerging from the economic crisis that followed the collapse of its ally, the former Soviet Union.
That crisis limited eating options in a country that imports most of its ingredients.
For many Cubans, "if it doesn't have rice, beans and meat, it isn't food," said Gallina, 37, who works at Cafe Bohemia.
"The Cubans who are most open to vegetarian cooking are the ones who have had the chance to travel abroad," she added.
Cuban President Raul Castro took over from his brother Fidel, leader of the 1959 revolution, in 2008.
He has since loosened travel restrictions for Cubans.
The government's migration department said hundreds of thousands of Cubans have traveled abroad since 2013.
Raul Castro has also authorized some private businesses and has transferred state eateries to private hands.
"That is a good thing," Fernandez said. "State gastronomy was not working."
The new generation of restaurateurs faces the challenge of pleasing the 4 million tourists now traveling to Cuba every year — including a growing number of US visitors.
In the kitchen at Versus 1900, Prieto and colleague Omar Gil show off their organic goods: cherry tomatoes, raisins and strawberries.
They have grown the ingredients in their own garden.
"There is lots of produce to make the most of in Cuba," Gallina said.
Cubans are used to fruit juice, but not like the exotic mixes she serves: guava with pepper and basil, carrot with ginger or pineapple with mint.
Cooking programs on Cuban TV have multiplied.
"You sit down in a park with Wi-Fi and download a recipe. That is how we have learned," Prieto said. "We want to go on like that and improve Cuban cooking."
Comments will be moderated. Keep comments relevant to the article. Remarks containing abusive and obscene language, personal attacks of any kind or promotion will be removed and the user banned. Final decision will be at the discretion of the Taipei Times.