Australia to increase tax for foreign home buyers
Sydney is imposing new taxes on foreigners buying homes, as concerns grow that a flood of mostly Chinese investors is crowding out locals and killing the "Great Australian Dream" of owning property.
Ownership rates across the country are among the highest in developed nations, with having your own house long viewed as a key aspect of Australian identity.
However, as prices rise to record levels — Sydney is ranked second only to Hong Kong as major cities with the world's least affordable housing — new potential homeowners have been increasingly forced out of the market with foreigners blamed as a key factor.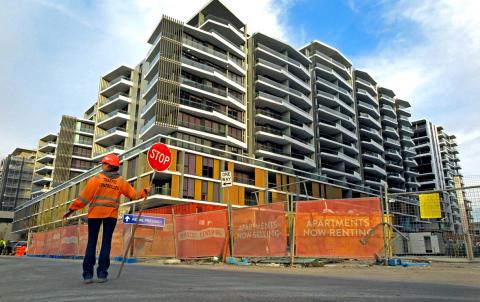 A worker on Friday holds a stop sign in front of an apartment block under construction in Sydney, Australia.
Photo: AFP
"The governments want to respond to a perception about housing affordability and the impact of foreign investment on that," KPMG Australia's indirect tax specialist Michelle Bennett told reporters.
"[Politicians] are raising money from people who aren't voting, so superficially you can understand that it's possibly not bad politics," she added, but warned the measures could be a "blunt instrument" that could hurt the market.
Last year, leading apartment developer Lend Lease Corp sold out more than A$600 million (US$444 million) worth of new units in Sydney's Darling Harbour in under five hours, with the Australian Financial Review reporting that one-third of buyers were foreign.
Lend Lease said the sale broke local records, but such reports have also fueled calls for government action to protect Australian buyers.
In response, the New South Wales, Victoria and Queensland state governments have introduced or are set to slap new property and land taxes on foreign buyers, sparking an outcry from developers fearful that they will flee to other markets, such as New Zealand and Canada.
"It is very bad. Without the Chinese nothing would ever get built," Harry Triguboff, the country's richest man and head of prominent developer Meriton, told the Australian Financial Review this week. "Never mind the bullshit stories, sales volumes have already dropped and prices are coming down steadily. The Chinese buyers are already disappearing."
Analysts say Australia is an appealing market particularly after Hong Kong and Singapore introduced a 15 percent property tax on non-local buyers and as the Australian dollar weakened against other currencies.
The proposed tax in Sydney's New South Wales state to be announced this week would be only 4 percent, in Queensland it is 3 percent and in Victoria 7 percent.
The island continent experienced an average 7.25 percent annual housing growth over the past three decades according to the central bank, attracting Chinese investment into commercial and residential real estate.
Chinese invested A$4.2 billion in 2011 to 2012, rising to A$24.3 billion in 2014 to last year according to Australia's Foreign Investment Review Board, making them the largest overseas buyers.
Housing affordability, and the role of property investors, has been a key battleground ahead of national elections on July 2.
However, with housing prices appearing to be coming off the boil and the economy transitioning away from a mining boom, analysts said the state taxes could backfire.
"It'll have ramifications down the track when the market goes through a pretty significant downturn in terms of construction and developers are finding it hard to get projects going," BIS Shrapnel's managing director Robert Mellor said.
Signs of a softening housing market could also be why states appear to be trying to "grab some revenue while it's on offer," leading property data provider CoreLogic's Australia research head Cameron Kusher said.
Meanwhile, there are question marks about whether current data adequately captures the full extent of foreign investment in Australian real estate, with some statistics not delineating between commercial and residential property purchases.
In one estimate, University of Sydney researchers last year said offshore Chinese purchases only totaled 2 percent of all transactions in 2014 out of overall residential home sales of A$270 billion, the Sydney Morning Herald reported.
Despite the new tax hurdles, Kusher expects long-term Chinese housing investment to continue.
"The people that are buying for the long term... maybe at some point to migrate to Australia, I don't think it would act as too much of a deterrent for them," he said.
Comments will be moderated. Keep comments relevant to the article. Remarks containing abusive and obscene language, personal attacks of any kind or promotion will be removed and the user banned. Final decision will be at the discretion of the Taipei Times.