US stocks fall on growth worry, looming UK vote
'NO EARNINGS GROWTH EXPECTED': The S&P 500 Index declined the most in three weeks, while the NASDAQ Composite suffered its worst decline since April 7
US stocks retreated on Friday, with the S&P 500 Index falling the most in three weeks, amid caution over tepid global growth and a series of looming events with the potential to spur renewed market turbulence.
Losses intensified in afternoon trading following fresh poll results favoring an exit in Britain's EU referendum, though a rebound in the final minutes pared declines. Energy producers led the slide, capping their worst session in five weeks.
Banks sold off for a second day as US Treasury yields continued to drop, with Citigroup Inc and Bank of America Corp sinking more than 2.4 percent.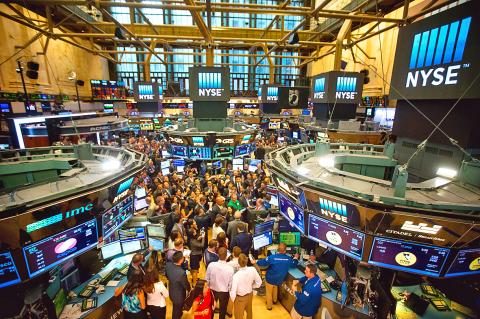 Traders work on the floor of the New York Stock Exchange on Friday.
Photo: Bloomberg
A measure of equity market volatility posted the biggest jump in five months.
The S&P 500 fell 0.9 percent to 2,096.07 in New York, slipping below 2,100 for the first time in a week, a level where other rallies during the past year have faded. The Dow Jones Industrial Average dropped 119.85 points, or 0.7 percent, to 17,865.34. The NASDAQ Composite Index lost 1.3 percent, the largest decline in two months. About 6.8 billion shares traded hands on US exchanges, 3 percent below the three-month average.
"With the macroeconomic data mixed and the British referendum, the market continues to struggle with the overall general macro environment not just in the US, but globally," New York-based J.P.Morgan Private Bank US equity strategist Nadia Lovell said by telephone. "And from a valuations standpoint, there is very little to no earnings growth expected. The market has really rallied from February lows, so people will be in a protect-my-profit mode as no one forgot about how volatile markets were last summer."
The CBOE Volatility Index surged 16 percent to 17.03, the biggest climb since January to a three-month high. The measure of market turbulence known as the VIX also marked its largest weekly advance in five months, up 26 percent. A flight from risk was apparent as 10-Year US Treasury yields fell for a fourth day to a three-year low.
Friday's retreat wiped out the S&P 500's weekly gain, leaving the index 0.2 percent lower for the period after reaching on Wednesday its highest in nearly 11 months and coming within 0.6 percent of a record. It signals a shift in sentiment as investors reevaluate a rally that regained momentum in the past three weeks and now faces simmering concerns over the health of the economy, lackluster corporate profits and the effectiveness of central-bank stimulus.
The so-called FANG stocks were the biggest drivers of the NASDAQ Composite's worst decline since April 7, with Facebook Inc, Amazon.com Inc and Google parent Alphabet Inc losing more than 1.3 percent.
Netflix Inc sank 3.4 percent.
Optimism that borrowing costs will remain lower for longer amid modest global growth is waning ahead of a string events in the next two weeks. The US Federal Reserve and Bank of Japan meetings next week, followed by the vote on Britain's EU membership, have the potential to roil markets.
Remarks on Monday by US Federal Reserve Chair Janet Yellen had soothed investors following a disappointing jobs report, as she said the US economy is making progress and indicated policymakers would not rush to raise interest rates.
The employment report prompted traders to cut back the probability for a rate increase this month to zero, and only 18 percent next month. At least even odds for a raise fluctuated today between December and January.
A report on Friday showed confidence among US consumers this month eased from an almost one-year high as favorable views about personal finances were offset by concerns about the economy's prospects.
A rebound of as much as 16 percent from the February low brought the valuation of S&P 500 companies to about 17 times estimated earnings, almost 10 percent more than the multiple for MSCI All-Country World Index members.
Comments will be moderated. Keep comments relevant to the article. Remarks containing abusive and obscene language, personal attacks of any kind or promotion will be removed and the user banned. Final decision will be at the discretion of the Taipei Times.