Timing of rate hike unclear: Yellen
INSUFFICIENT: Fed Chair Janet Yellen called Friday's US jobs report 'disappointing,' but added that it would be wrong to put too much stock in a single monthly report
US Federal Reserve Chair Janet Yellen on Monday said that the US economy is improving, but remains defined by so many uncertainties that it is unclear when the Fed should resume raising interest rates.
Speaking in Philadelphia, Yellen struck a broadly positive and optimistic tone about the economy.
She said that the job market had strengthened significantly since the Great Recession and said that consumer spending and economic growth seem likely to accelerate after a tepid start to this year.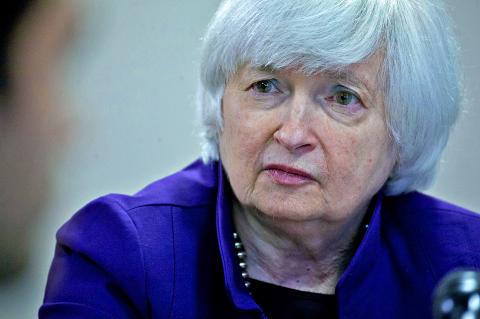 Fed Chair Janet Yellan listens as a West Philadelphia Skills Initiative workforce development program participant speaks during a roundtable discussion in Philadelphia, Pennsylvania, US, on Monday.
Photo: Bloomberg
However, the Fed chair suggested that a dismal jobs report that the government issued on Friday last week raised some doubts about the broader economy.
She referred repeatedly to the uncertainties surrounding the Fed's outlook.
In doing so, Yellen dropped a reference she had made in a speech on May 27 that a Fed rate hike would likely be appropriate "in the coming months."
In its place, she offered no specific timetable for the Fed to act.
Yellen's speech had been highly anticipated given that it comes a week before the central bank's next meeting. Until last week, many analysts had thought the Fed could raise rates on Wednesday next week — or, if not then, at its subsequent meeting in late July. The bleak jobs report for lat month, and Yellen's speech on Monday, seemed to fan doubts about any Fed rate hike this summer.
"She did not address the timing of the Fed's next gradual move, which suggests to us that she is in no hurry," said Chris Rupkey, chief financial economist at MUFG Union Bank in New York. "We are telling clients to take the summer off. See all of you Fed watchers in September."
Investors sent stock prices up, reflecting a belief that a rate hike this month is now even less likely than it had seemed after Friday's weak jobs report and that borrowing rates will remain ultra-low. The Dow Jones industrial average closed up 113 points.
In her speech, Yellen called the employment report "disappointing," but cautioned that it would be wrong to put too much stock in a single monthly report.
Without referring to any particular date, Yellen said: "I continue to believe that it will be appropriate to gradually reduce the degree of monetary policy accommodation, provided that labor market conditions strengthen further and inflation continues to make progress toward our 2 percent objective."
Inflation, by the Fed's measure, has remained persistently below its 2 percent target.
Given the uncertainty facing the economy, Yellen said, the Fed cannot move on "a preset path."
"For a time in January and early February, financial markets here and broad became turbulent and financial conditions tightened, reflecting and reinforcing concerns about downside risks to the global economy," Yellen said.
She said that as a result, Fed officials felt "it would be prudent" to keep rates unchanged at meetings in January, March and April.
Part of the uncertainty, she said, reflects continued foreign threats, including economic challenges in China and an upcoming vote in Britain over whether to leave the EU.
In a question-and-answer session with the World Affairs Council of Philadelphia that followed her speech, Yellen was asked about fears that the world economy could be headed for a crash if Donald Trump, the presumptive Republican presidential nominee, were to win the White House.
"I'm sorry — I have got nothing for you on that," Yellen said to laughter from the audience. "We are very focused on doing our jobs. We will just see what happens."
Employers added just 38,000 jobs last month, the weakest monthly gain in more than five years. Job gains have averaged just 116,000 in the past three months, down sharply from an average of 230,000 in the 12 months ending in April.
Comments will be moderated. Keep comments relevant to the article. Remarks containing abusive and obscene language, personal attacks of any kind or promotion will be removed and the user banned. Final decision will be at the discretion of the Taipei Times.