Independent filmmakers show Hollywood the way on diversity
From rom-coms to urban thrillers and political documentaries, US independent filmmakers are representing the diversity of human experience with a commitment that shines a light on Hollywood's narrow outlook.
Dozens of world premieres are being shown at the Los Angeles Film Festival (LAFF), which opened on Wednesday, with women accounting for almost half of the directors of features in the competition, and 38 percent ethnic minorities.
The numbers still fall short of representing the true makeup of US society, but they are a marked improvement on the output of Tinseltown, which this year sparked outrage with white-only nominations in the acting categories at the Oscars.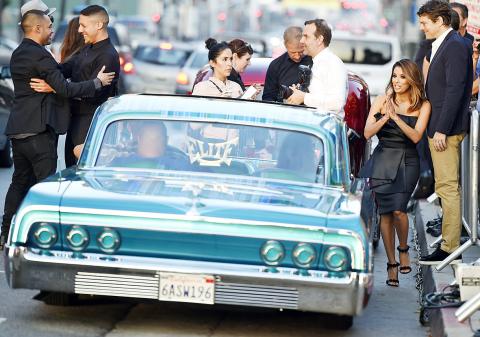 Eva Longoria, far right, a cast member in Lowriders, looks at a lowrider automobile outside the premiere of the film on the opening night of the Los Angeles Film Festival at the Arclight Hollywood in California on Wednesday.
Photo: AP
The nine-day LAFF, hosted by Film Independent, the producer of the pre-Oscar Spirit Awards, features five categories for feature films — US fiction, documentary, world fiction, "Nightfall" and "LA Muse."
"The competition lineup of 42 world premieres echoes Film Independent's mission to celebrate diversity and showcases a multitude of innovative, fresh voices," festival director Stephanie Allain said.
Among the most hotly anticipated films in the documentary section is The House on Coco Road, an intimate family portrait set against the racial violence that accompanied former US president Ronald Reagan's war on drugs in the 1980s.
Written and directed by Damani Baker, it tells the story of his mother, Fannie Haughton, an activist and teacher who moved the family from Oakland, California, to take part in an Afro-centric socialist revolution in the island nation of Grenada.
"The programmers have obviously been thoughtful and sensitive to finding and supporting talented storytellers with something new to say," said 42-year-old Baker, a Brooklynite who attended film school in Los Angeles. "If studios, networks and funders don't support the voices of women, people of color, queer and gender non-conforming artists, then what stories are we actually being told?"
On the LGBT side, Political Animals celebrates the civil rights victories of the first four openly gay elected California state politicians — all of whom were women.
"Though it seems as if we've transitioned into a post-gay culture, we're just starting the fight for concretely securing civil rights for all LGBT Americans," director Jonah Markowitz said. "As the federal government steps up to ensure that students aren't discriminated against in the most basic of human functions like using a restroom, comparisons to the desegregation of schools in the 1960s comes to mind."
In the feature section, Sensitivity Training, is a coming-of-age rom-com about LGBT and straight relationships, anger management and tolerance that attempts to subvert well-worn movie tropes about female friendship and love.
It won the Samuel Goldwyn writing award for its writer and director, Los Angeles-based feature debutant Melissa Finell.
Meanwhile Destined, written and directed by Qasim Basir, stars veteran actor Cory Hardrict in the dual roles of Sheed and Rasheed, a la Sliding Doors, and attempts to show how one incident can change a life for better or worse.
Ricardo de Montreuil's Lowriders has been selected to open the 22nd edition of the annual festival, which runs until Thursday at the Arclight Cinemas in Hollywood and Culver City.
Set against the backdrop of east LA's car culture, Lowriders features Desperate Housewives' Eva Longoria and Melissa Benoist, best known for her portrayal of the title character in hit television show Supergirl.
Film Independent has also announced that Ryan Coogler, who most recently directed Rocky spin-off Creed, will serve as the event's guest director.
The indie showcase has developed considerably since its original incarnation as the Los Angeles Independent Festival in 1995, with attendance growing from about 19,000 in its early years to a routine 75,000 to 90,000 since Film Independent took over in 2001.
A selection of 58 short films will also be shown as part of the festival, representing 15 countries and with 64 percent directed by women.
"Discovering storytellers is our raison d'etre," programming director Roya Rastegar said. "We invest a great deal to learn about filmmaking communities across the globe. We look for films with conviction in perspective, style and voice."
Comments will be moderated. Keep comments relevant to the article. Remarks containing abusive and obscene language, personal attacks of any kind or promotion will be removed and the user banned. Final decision will be at the discretion of the Taipei Times.