Drones moving into mainstream, inspire start-ups
Over the past few years, drones have gone from being a contentious military tool for airstrikes to a far more mundane magnet for aerial hobbyists.
However, as drones move into the mainstream, entrepreneurs are finding ways to harness the technology as the core of their business ideas.
Ryan Jenson showed its business potential in a demonstration for his new venture, HoneyComb. His idea was to use drones to scout fields for irrigation and pest problems. If not caught early, such problems can cost farmers thousands of dollars a hectare.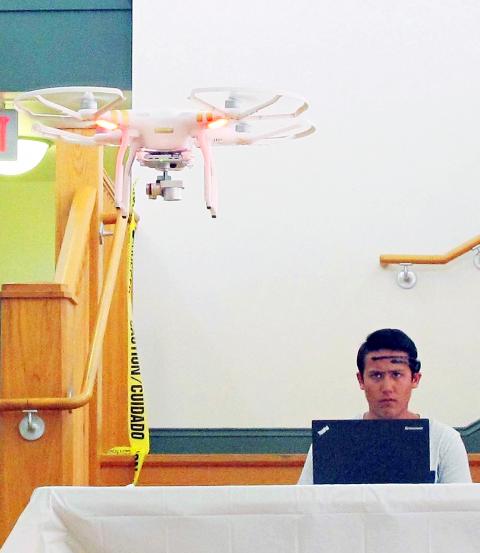 University of Florida sophomore Michael Lakin, 19, uses a brain-controlled interface headset to fly a drone during a mind-controlled drone race in Gainesville, Florida, on April 16.
Photo: AP
Nevertheless, farmers were left scratching their heads.
Jenson said they asked him: "Why do we need those? And if we do, how can we afford them?"
He and his two cofounders at HoneyComb built a rough prototype. On a sunny day in August 2013, they gathered 50 growers at Gold Dust Farms, a 3,600-hectare farm in southern Oregon that specializes in potatoes.
Usually farmers scout for problems on foot, covering approximately 4 hectares per hour. The AgDrone from HoneyComb can cover more than 280 hectares per hour, producing high-resolution 2D and 3D maps that can be used to assess most aspects of crop health.
As the drone soared in the sky above, the growers watched a screen nearby that showed a view from the drone's video camera of the fields below. Once the drone returned, they saw photographs it had taken on its trip.
"A big light bulb lit up," said Jenson, 30, who had an interest in aerospace and engineering at young age, took college classes at age 14 and began working for NASA at 18. "When they realized: 'You're telling me I can see every square inch of my farm whenever I want?' They were sold."
One recent convert to HoneyComb's AgDrone found an irrigation leak, saving him nearly US$100,000 in crop loss. Another grower was able to detect the onset of blight in his potatoes early enough to apply the needed fungicide in time to save the crop.
The Wilsonville, Oregon-based firm now has 16 employees and has raised US$2 million in financing.
HoneyComb is part of a new wave of commercial drone startups. Often described as "drone services," these companies are one-stop shops, providing both the drones to collect the data and the software to analyze it afterward.
"From catastrophe response to news gathering to construction site monitoring, commercial drones represent one of the fastest-growing sectors in technology," said Lisa Ellman, a partner and Washington-based co-chairwoman of the unmanned aircraft systems practice at the law firm Hogan Lovells.
While the opportunity looms large, starting a new business centered on drones (or unmanned aircraft systems, as they are officially known) has its challenges, not the least of which are laws that seem to be a moving target. Many of these startups are small and venture financing has been hard to secure.
"The regulations have made it very difficult for many small businesses to pull themselves up from the bootstraps," said Jeffrey Antonelli, a Chicago lawyer whose legal practice focuses on drones.
However, the rules are slowly falling into place for commercial use of drone technology.
Since the US Federal Aviation Administration (FAA) started issuing what it calls "exemptions" in September 2014, more than 5,200 permits have been issued to commercial drone operators.
Most have gone to larger companies. Companies in photography, film and real estate have received the largest share of these permits.
The biggest hurdle, most small businesses say, is that once they have the drone permit, they still need someone with a manned vehicle license — like an airplane or helicopter pilot — to fly it.
Some commercial drone fliers have not bothered to get a license.
"Like Prohibition, the bar was set so high that many people have walked underneath it," Antonelli said.
However, new FAA rules for commercial drones weighing 25kg or less, expected to be announced next month at the earliest, could address that hurdle.
One significant potential change would be to drop the requirement for a manned vehicle license. Instead, drone pilot certification would resemble getting a driver's license at the department of motor vehicles, a process that could be completed in weeks.
Some new businesses, like Identified Technologies, based in Pittsburgh, Pennsylvania, have hired experts to address legal and regulatory issues. Identified Technologies uses drones to create 3D maps of construction sites that allow clients to monitor progress, allocate crews more efficiently and detect problems early. The firm has raised US$4 million in financing.
Identified Technologies recently brought on two employees who used to work with commercial airlines, with the aim of helping clients get the FAA exemption, find pilots, get drone insurance and complete paperwork.
"People don't realize how much has to be done before and after a flight to remain compliant," company founder Dick Zhang said. "We take care of everything so clients don't have to."
Some companies are working on supporting drone operators in meeting regulatory and insurance requirements.
Skyward, based in Oregon, provides software with airspace maps to show where and when it is safe to fly. The company, founded by Jonathan Evans, a former pilot of Blackhawk and medical helicopters, also helps drone companies track who is flying a specific drone, in what location and at what time, creating custom reports with the information that regulators and insurers require.
Small businesses are expected to get a boost from larger corporations like Amazon.com that have drone programs already under way.
As the final barriers to entry come down, many anticipate a flood of new businesses.
"When cellphones were first invented, we didn't envision all the ways we would use them," Ellman said. "Drones are very similar."
Comments will be moderated. Keep comments relevant to the article. Remarks containing abusive and obscene language, personal attacks of any kind or promotion will be removed and the user banned. Final decision will be at the discretion of the Taipei Times.