Security, foreign pullout weigh on Afghanistan town
Some days there is no train at all crossing the bridge to Uzbekistan, said a customs officer in Hairatan, formerly a teeming Silk Road border town whose decline is a barometer of economic depression in Afghanistan's north.
"The camel driver is at work; the caravan is being readied," wrote the mystic poet Rumi, born in Balkh Province, where Hairatan is located and through which passes one of the routes of the ancient trade network. "He asks why we travelers are asleep."
Eight centuries later, sleep has won in Balkh, and Hairatan sees few travelers — a situation local entrepreneurs and politicians attribute to insecurity and the departure of foreign troops.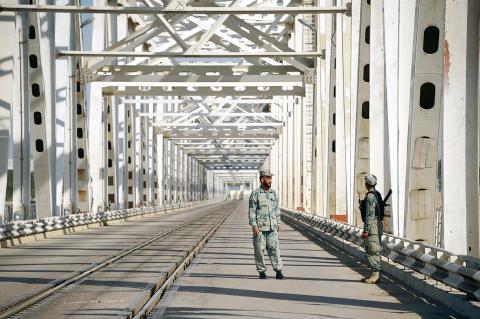 Border police personnel stand guard on the Afghan side of the Afghanistan-Uzbekistan bridge in Hairatan, Afghanistan, on March 20.
Photo: AFP
"Three years ago, you had to wait five or six days for a boat to become free and bring our goods across the river Amu Darya from Uzbekistan to Afghanistan. There was a real bottleneck," importer Mohammed Afzal Joya said.
"Today there is no longer any boat," he said in Mazar-i-Sharif, the largest city near Hairatan.
"If two freight trains cross the bridge in a day, this is Peru," said the chief of the Hairatan rail yard, who requested anonymity.
Behind him, trucks marked with Cyrillic characters wait for a hypothetical load.
Hairatan, the only crossing between Afghanistan and Uzbekistan, is an ominous bellwether of economic activity in northern Afghanistan. It is here, and at four other entry points on the borders with Tajikistan and Turkmenistan, that building materials, flour and household products are exported from Central Asia to Afghanistan.
The Afghan economy is in bad shape, its labor market struggling to absorb a young and often unskilled workforce. The Afghan Ministry of Labor says 22 percent of the workforce is unemployed, while 16 percent are in odd jobs.
This is in part because, apart from saffron, some cotton and grapes, war-torn Afghanistan does not produce much else.
The little Afghanistan does export is hit with "prohibitive taxes" levied by Central Asian nations, Balkh Chamber of Commerce vice president Mir Abdul Wahab Delsouz said.
He accuses Afghanistan's neighbors of "keeping our goods in stations or ports" for fear of competition. In the end, the overall picture is alarming.
"Trade between Central Asia and Afghanistan fell by 60 percent [last year] compared with 2010," Delsouz said.
The bleak economic prospects have driven thousands of Afghans to make the perilous journey to Europe. The depression is felt in a Mazar-i-Sharif market, where Hasibullah sells imported flour from Kazakhstan, via Uzbekistan and Hairatan.
"Customers no longer come as they did three or four years ago. People are out of work. They used to buy 50kg at once, now it's more like four," he said.
Entrepreneurs and political leaders agree that the end of the NATO combat mission in Afghanistan in late 2014 sounded the death knell for the local economy, which had experienced a rebirth with the fall of the Taliban regime in 2001.
Hajji Walid Akbarzada, a building materials importer, said development aid has dried up with the departure of the military.
"Before, foreigners had many assistance programs and were building their facilities, but they left, and there are no more projects," said the entrepreneur, who brought iron bars and metal products from Uzbekistan.
Turnover fell 70 percent in the past three years and he had to lay off 20 of his 26 employees.
"After 2014 and the NATO withdrawal, the economic situation of the Afghans went down, especially in Balkh," Delsouz siad.
"Their incomes went down by 50 percent. The situation is especially dire for students. The government cannot absorb all of those who enter the job market and offer them jobs," he said.
Added to this is insecurity. The 80km asphalt road leading from Hairatan to Mazar is safe, but the Taliban, who began their annual spring offensive last month, are clashing with Afghan forces across the nation, especially in the east, where Islamic State group is also trying to gain a foothold.
Mohammed Eisa Amiri, a former warlord turned importer-exporter, said the insecurity has shaken Uzbek merchants, even if it does not touch Hairatan.
"They no longer have confidence in us because of the Taliban and Daesh [Islamic State]. They do not want to get involved in Afghanistan," he said.
"If the world continues to ignore Afghanistan, we will return to civil war, as in 1992," he said, adding that: "I am ready to take up arms again if our region is threatened by the Taliban."
Comments will be moderated. Keep comments relevant to the article. Remarks containing abusive and obscene language, personal attacks of any kind or promotion will be removed and the user banned. Final decision will be at the discretion of the Taipei Times.