Games to give Brazil only limited boost: report
The Rio Olympics in August will give Brazil's battered economy only a limited shot in the arm, Moody's Investors Service said on Monday, as bad news mounted for the city's Olympic transportation network.
"Rio de Janeiro's upcoming summer Olympic Games will give the city some lasting infrastructure improvements, as well as a temporary boost in tax revenues, but once the events are over, the country will wake up once again to its deepening recession," the ratings agency said in a report.
Spending US$7.1 billion on infrastructure around Rio will equal all spending for 12 cities during Brazil's hosting of the 2014 World Cup, the report added.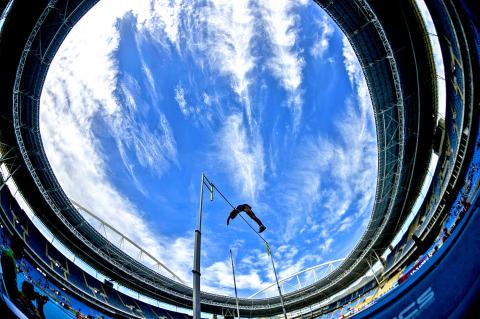 Argentine athlete German Chiaraviglio participates in the pole vault competition at the XVII Iberoamerican Athletics Championships, held at Rio de Janeiro's Olympic stadium on Monday ahead of the Rio Olympics.
Photo: EPA
However, with Brazil set to remain in deep recession throughout this year, the Games will not change the underlying weaknesses, Moody's said.
One of the biggest injections into the economy — construction spending — is already almost over, the report said.
Car rental companies will be another big winner, especially the official Games company, Localiza Rent a Car, Moody's said.
On a longer-lasting scale, Rio should benefit from major transport projects, the ratings company said, including a fourth metro line linking the Olympic Park area in Barra to the wealthy south of Rio, and a tram line in the center.
However, the future of a much-heralded express bus system meant to link the rest of the city to the Deodoro Olympic hub in the north is shakier, Moody's said.
"The commercial prospects of this project are less certain," the report said.
"While we expect the motorway will be used heavily during the Games, it is unclear whether high traffic volumes over this less economically developed area can be sustained during the medium to long term," it said.
The metro, a key piece in the transport puzzle for Rio, had been meant to open a month before the Olympics opening ceremony on Aug. 5, but over the weekend the Rio state transportation secretary said it would now only open four days before and with limited service.
It will be open only to athletes, spectators and others involved in the Games.
The public will be allowed to use the system only after the Paralympics ends in mid-September.
There are also teething problems for the express bus system, which will only have three of the planned 21 stops functioning in time for the Games and will now stop short of Deodoro.
Comments will be moderated. Keep comments relevant to the article. Remarks containing abusive and obscene language, personal attacks of any kind or promotion will be removed and the user banned. Final decision will be at the discretion of the Taipei Times.