G20 currency vow does not limit negative rates: Aso
The Bank of Japan's policy is not affected by the international community's pledges to avoid targeting exchange rates, Japanese Finance Minister Taro Aso said on Thursday, adding that he told US Secretary of the Treasury Jack Lew of his "strong concern" about recent moves in the yen.
"The G20 has promised to avoid competitive devaluations, but this doesn't apply to negative interest rates and other steps done for domestic policy purposes," Aso said he told his counterparts at a G20 meeting in Washington.
Aso also said he and Lew agreed that excessive currency moves are undesirable.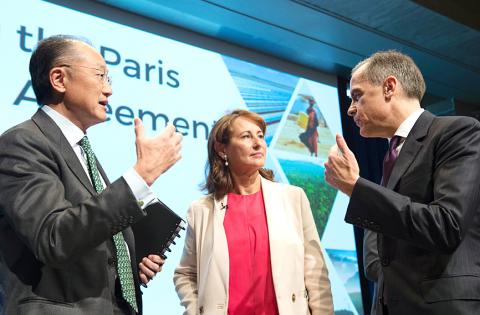 World Bank president Jim Yong Kim, left, chats with French Minister of Ecology, Sustainable Development and Energy Segolene Royal, center, and Bank of England Governor Mark Carney at a G20 meeting in Washington on Thursday.
Photo: AFP
The comments come as the Bank of Japan's policy is under scrutiny both at home and abroad. The central bank's negative interest rate policy was identified as a source of concern for some international officials at the G20's last meeting in Shanghai.
The IMF sees "no good reason" for Japan to intervene at this point, the fund's mission chief in Tokyo said this week.
IMF managing director Christine Lagarde said intervention is only justified in cases where "very disruptive volatility must be avoided."
She added that there were cases where monetary support should be continued, as long as it was accompanied by structural reforms and fiscal policy.
Since the negative interest rate policy was announced in January, the yen has strengthened. This has prompted some calls for the rate to be cut further, even as others suggest that introducing the policy was a mistake.
"There is a clear distinction between monetary policy and currency policy," Takatoshi Ito, a former colleague of Bank of Japan Governor Haruhiko Kuroda, said in an interview.
"It's hard for Japan to win understanding of a currency intervention now as other nations are also struggling with weak demand," he said.
Kuroda told reporters in Washington that "excessive yen gains" have been somewhat corrected in recent days and that it is necessary to "monitor developments in the economy for a little while."
The yen fell against the US dollar yesterday in Asian trading, heading for its biggest weekly fall in over two months over expectations the Bank of Japan might soon expand its monetary easing program.
Additional reporting by AFP
Comments will be moderated. Keep comments relevant to the article. Remarks containing abusive and obscene language, personal attacks of any kind or promotion will be removed and the user banned. Final decision will be at the discretion of the Taipei Times.