Painting by numbers: What value in China's art market?
Many of China's 'nouveau riche' art buyers have little understanding of art, and China's art market suffers from a weak museum system, bribes paid to reviewers and artists whose sales rest on connections
The serenity of Cui Ruzhuo's (崔如琢) ink landscapes is a far cry from the turmoil of China's contemporary art market, but he can bank on his own status as the country's best-selling living artist.
Cui's works reflect traditional Chinese forms and subjects, replete with largely monochrome mountains, lakes and trees.
Little-known in the West, his works fetched a total of more than US$120 million at public auctions last year, up 69 percent, even as the overall market plummeted, according to wealth publisher the Hurun Report's newly released China art list.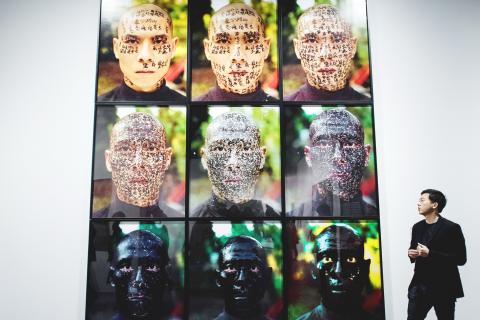 A man views an artwork by Chinese artist Zhang Huan titled Family Tree during the preview of the M+ Sigg art show in Hong Kong on Feb. 22.
Photo: AFP
"When an artist is creating, a very important point is to definitely be sincere and responsible toward your own art," Cui said at the launch of the document.
"Do not just see your works as products," he added.
Cui is in a position where he can afford to proclaim himself on the moral high ground.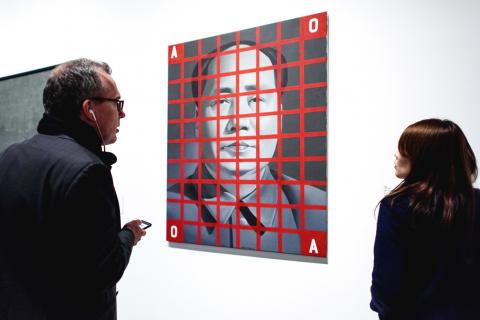 Visitors view an artwork by Chinese artist Wan Guangyi titled Mao Zedong: Red Grid No. 2 during a preview of the M+ Sigg art show in Hong Kong on Feb. 22.
Photo: AFP
However, he said that he watched the market "quite closely," before lauding multibillionaire art collector Wang Jianlin (王健林) as a man with "personal cultivation."
Connoisseurs fear that in a system where money dominates the conversation around value, artistic quality risks being sidelined.
"China's art market is a chaotic mess. People are always looking for a standard by which to judge works, but art isn't like the Olympics," said artist, columnist and curator Xie Chunyan (謝春彥). "You measure a long jump in meters, but art isn't that simple — money is one metric, but it's not the only criteria."
Hurun Report chairman Rupert Hoogewerf said that the art list was intended as a guide for someone like him, who loves "the idea of being interested in art," but "lacks a deep understanding of it."
"These people are looking to become more educated and cultured and are looking to get into the art world, but where to start?" he said of China's nouveau riche entrepreneurs.
FLYING IN CIRCLES
China's contemporary art market is riddled with systemic flaws and inconsistencies, insiders say.
The country's system of museums remains weak, and critics are regularly offered "red envelopes" containing bribe money in exchange for positive reviews, aiding unchecked speculation.
Hoogewerf admitted that the auction statistics his list depended on were "far from" perfect.
"It's well known that a lot of the auction prices might be ramped, and some of the works are never paid for at the end of it," Hoogewerf said. "There are a lot of problems."
It is a phenomenon that threatens quality and development, according to artists and critics.
"An art world that focuses on money can only spit out artists of high net worth — not profound or truly great artists," said Li Mo, calligrapher and history researcher at Beijing University. "The art market and artistic creation are like two wings of a bird — if the creative wing is atrophied and the money-making one is strong, our art world can only fly in circles."
TEST OF TIME
Auction sales for China's top 100 living artists totalled US$565 million last year, according to Hurun Report, down 45 percent on 2014.
The fall was largely due to a collapse in volume, rather than average prices, with 6,863 works auctioned over the course of the year, compared with 15,921 in 2014.
China's contemporary calligraphy and painting business remains immature and subject to individual distortions, long-time art analyst Qi Jianqiu (齊建秋) said.
The "deformed market" of years past, he said, was based heavily on gifting practices and had been hard hit by slowing economic growth and an anti-corruption campaign under Chinese President Xi Jinping (習近平).
However, art critic and ink painter Zhang Zhaohui (張朝暉) said some artists' sales values rose "because they have good relations with bureaucrats and the wealthy."
"They aren't in fact very good artists, but they work their network of relationships — perhaps using only 10 percent of their energy and brainpower on painting and 90 percent of their energy on making use of those relationships," Zhang said.
Even so, the long arc of art history will establish the difference between price and genuine artistic value, he said.
"History is like a sieve — it will always filter out works that do not stand the test of time, while the truly good works will be gradually passed down through generations," he said.
Comments will be moderated. Keep comments relevant to the article. Remarks containing abusive and obscene language, personal attacks of any kind or promotion will be removed and the user banned. Final decision will be at the discretion of the Taipei Times.