Indian tycoon Vijay Mallya makes offer to clear debts
Indian businessman Vijay Mallya, who is accused of fleeing to London owing more than US$1 billion to Indian banks, on Wednesday told India's top court that he would repay more than 40 percent of his debts by September, one of his lawyers said.
Mallya, who has failed to appear for questioning by authorities, made the offer to the Supreme Court and gave documents to the Indian lenders, lawyer C.S. Vaidyanathan said.
The Press Trust of India news agency reported that the court gave the banks a week to respond to Mallya's proposal. If they decline to accept it, then he would face prosecution.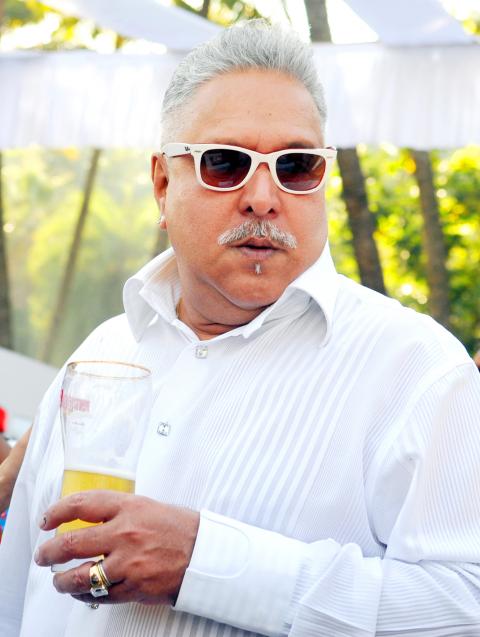 Businessman Vijay Mallya holds a glass in Mumbai, India, on Dec. 21, 2013. Warning: Excessive consumption of alcohol can damage your health
Photo: AFP
Mallya has failed to appear for questioning by India's Enforcement Directorate, which has been investigating his massive debt liability since he left for London this month.
The opposition Congress party has accused Indian Prime Minister Narendra Modi's government of letting Mallya fly out of India on March 2 while he was being pursued by the banks over massive debts amounting to 9 billion rupees (US$1.3 billion).
Mallya is famous for his flashy lifestyle and lavish parties attended by fashion models, Bollywood movie stars and cricket players.
He was once hailed as India's version of Richard Branson for his investments in a brewing and liquor company, an airline, a Formula One team and an Indian Premier League cricket club.
His downfall was triggered by the failure of Kingfisher Airlines, which he launched in 2005. The Indian government in 2012 suspended the license of the airline after it failed to pay pilots and engineers for months.
Comments will be moderated. Keep comments relevant to the article. Remarks containing abusive and obscene language, personal attacks of any kind or promotion will be removed and the user banned. Final decision will be at the discretion of the Taipei Times.