Apple's modest upgrades overshadowed
ENCRYPTION ISSUE: Apple chief executive officer Tim Cook said that the US needs to decide how much power the government holds over people's data and privacy
Apple Inc on Monday held one of its regular product showcases, but this time, the products did not take center stage.
Before the Silicon Valley giant unveiled modest upgrades to its device lineup, Apple chief executive officer Tim Cook defended the company's stance in its fight with the US federal government over the encryption on iPhones.
The case had been expected to head to a court hearing today, but the US Department of Justice on Monday moved abruptly to cancel the hearing, saying it might not need Apple's help to break into the phone used by a shooter in last year's San Bernardino, California, mass shooting.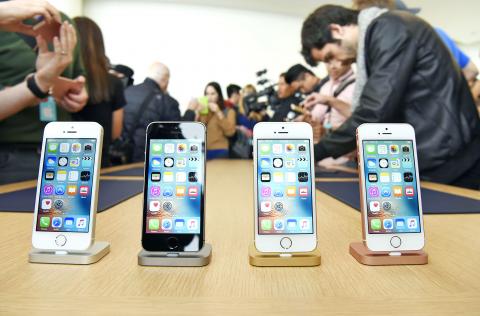 Apple Inc iPhone SE smartphones are displayed at an event in Cupertino, California, on Monday.
Photo: Bloomberg
In a news conference at Apple's Cupertino, California, headquarters, Cook said the company would stand fast.
"We need to decide, as a nation, how much power the government should have over our data and over our privacy," he said. "This is an issue that impacts all of us and we will not shrink from this responsibility."
He said that Apple believes it has an obligation to help protect its users' data. That belief eventually prompted Apple to fight the Department of Justice's demand to help the government crack the encryption on the iPhone used by a terrorist in last year's California attack.
Compared with that high-stakes contest — which has broad implications for the technology industry, consumers and law enforcement — Apple's new products were small ball.
The company introduced smaller versions of its flagship iPhone and iPad devices, hoping to eke out more sales growth by filling gaps in its product lineup.
The new devices, the iPhone SE and a 9.7-inch iPad Pro, represent a return to the form that prevailed before Apple supersized its smartphones in 2014 and added the large business-oriented iPad Pro last year, and many iPhone users have been begging the company to update its phones of that size.
"It is clear that there is still some subset of the iPhone population that prefers a smaller phone," said Jan Dawson, chief analyst of Jackdaw Research, an independent consulting firm.
Apple vice president of hardware marketing Greg Joswiak said on stage that the company sold more than 30 million 4-inch iPhones last year.
So Apple upgraded the components of its new 4-inch phone to largely match the speed and features of its flagship iPhone 6S, but at a lower price, starting at US$399.
Apple, which has a higher market value than any other company, is now so big that it is difficult for the company to come up with products to drive a new wave of purchases. Its premium pricing — its larger phones typically run at US$650 or more — has left it vulnerable to cheaper handsets that run on Google's Android software.
Apple certainly hopes that fans of its 4-inch phones would upgrade to the new iPhone SE, which packs a faster computer chip, a better camera, and Apple's Touch ID and payment technology.
The new 9.7-inch iPad Pro brings some of the features of last year's 12.9-inch iPad Pro, including a stylus, a keyboard and four speakers, to a tablet the size of the consumer-oriented 9.7-inch iPad Air 2. The new Pro is to start at US$599, and Apple also cut the price of the Air 2 by US$100 to start at US$399.
Comments will be moderated. Keep comments relevant to the article. Remarks containing abusive and obscene language, personal attacks of any kind or promotion will be removed and the user banned. Final decision will be at the discretion of the Taipei Times.