PlayStation VR set to debut for less than Rift, Vive
Sony Corp's version of virtual reality (VR) is likely to cost a few hundred US dollars less than competitors when its headset is released in October.
The company announced a US$399 price tag and October release date for PlayStation (PS) VR on Tuesday during the Game Developers Conference, an annual gathering of video game creators.
"We're proud of the price point we've been able to achieve because it means more gamers will be able to bring PlayStation VR into their living rooms," Sony Computer Entertainment president and chief executive officer Andrew House said.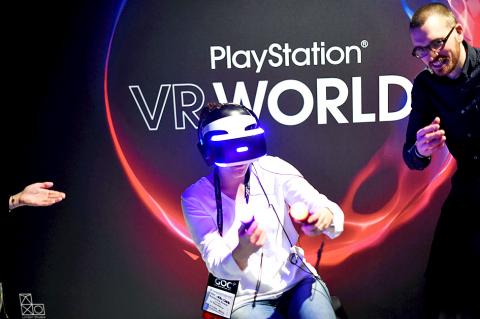 A woman demonstrates Sony's PlayStation VR during an event in San Francisco, California, on Tuesday.
Photo: Reuters
House said that Sony has sold 36 million PS4 consoles since the console first debuted in 2013.
The head-mounted PS VR headset works in tandem with the PS 4 console, which costs about US$350 depending on the model. The headset replaces a wearer's vision with virtual worlds while detecting head movement with internal sensors and a camera.
PS VR's release is scheduled to come months after the respective consumer launches of similar high-definition headsets, the Oculus VR Inc's Rift and HTC Corp's (宏達電) Vive.
The Rift from Facebook Inc-owned Oculus is scheduled to be available on March 28 for US$599. The Vive from HTC and gaming company Valve Corp is scheduled to be released on April 5 for US$799.
PS VR is set to come with ear buds and the cables required to use it. However, it will not be bundled with PlayStation Move controllers or the PlayStation Camera. In addition to playing immersive, 360-degree games, PS VR is to feature a cinematic mode allowing users to broadcast traditional games and content on a virtual big screen within the headset.
For gamers and technophiles, interest in VR has been building since Oculus began showing early prototypes of the Rift headset at industry events in 2012.
"We believe that PlayStation VR is best poised to bring VR to the mainstream given the unparalleled VR experience we're offering at a tremendous value, along with the strength of our ecosystem and the momentum of our brand," House said.
Comments will be moderated. Keep comments relevant to the article. Remarks containing abusive and obscene language, personal attacks of any kind or promotion will be removed and the user banned. Final decision will be at the discretion of the Taipei Times.