CPC to cut fuel prices to 13-year low on weak oil
State-owned CPC Corp, Taiwan (CPC, 台灣中油) yesterday said that it would lower its gasoline and diesel prices by NT$0.1 and NT$0.4 per liter respectively to a 13-year low, effective today, to reflect weakness in the global oil market.
The adjustments were made in the wake of international crude oil prices dropping to less than US$27 per barrel — a 12-year low — due to a recent surge in oil inventories in the US, CPC said.
The earlier spike in crude oil prices also reflected fears that a lifting of economic sanctions against Iran would exacerbate global oversupply, CPC said.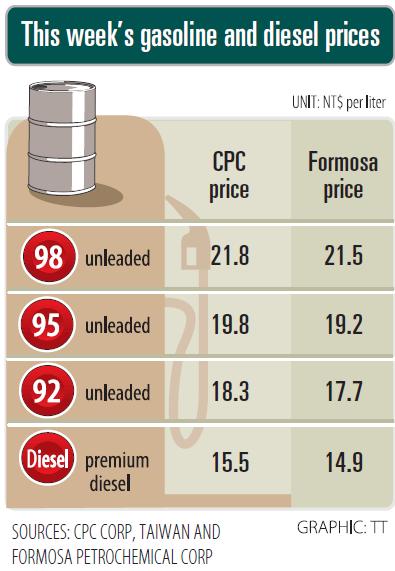 However, crude oil prices started to stage a rebound on Thursday amid hopes that central banks around the world would continue to pump funds into the market to boost the economy.
On Friday, crude oil prices returned to the US$32 mark.
CPC said, based on its floating oil price mechanism, the company's costs fell to US$24.89 per barrel last week from US$27.19 the previous week.
After factoring in the New Taiwan dollar's depreciation of almost NT$0.104 against the US dollar in the week, the company is to lower domestic fuel prices by 6.54 percent this week, it said.
The CPC announcement came a day after private gasoline supplier Formosa Petrochemical Corp (台塑石化) announced its own fuel price cuts to a 14-year low.
Formosa Petrochemical lowered its gasoline prices by NT$0.6 per liter and diesel prices by NT$0.7 per liter, effective from 1am yesterday.
It was the fourth consecutive week in which Formosa Petrochemical cut fuel prices before CPC in an effort to grab a bigger market share.
Comments will be moderated. Keep comments relevant to the article. Remarks containing abusive and obscene language, personal attacks of any kind or promotion will be removed and the user banned. Final decision will be at the discretion of the Taipei Times.