Vice president says China not devaluing its currency
China has no intention to devalue its currency, Chinese Vice President Li Yuanchao (李源潮) said, following a sudden drop in the value of the yuan that spooked global markets this month.
Beijing guided the unit down by setting its daily fix lower for eight consecutive sessions, representing a 1.4 percent fall, before returning to stability.
"The fluctuations in the currency market are a result of market forces and the Chinese government has no intention and no policy to devalue its currency," Li told Bloomberg News in an interview on the sidelines of the World Economic Forum in Davos, Switzerland, on Thursday.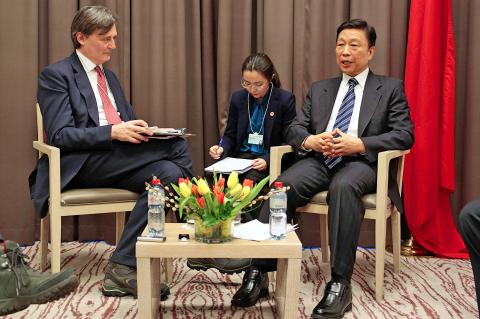 Chinese Vice President Li Yuanchao, right, speaks to Bloomberg News editor-in-chief John Micklethwait, left, in an interview at the World Economic Forum in Davos, Switzerland, on Thursday.
Photo: Bloomberg
The falls raised worries of a creeping devaluation, as it echoed moves in mid-August last year when China adjusted the yuan down nearly 5 percent over a week, and spurred fears Beijing is pursuing a currency war to help boost its flagging exports.
"Recently there have been some fluctuations in China's economy, its equity and foreign exchange markets and this has triggered some overreaction from the international community," said Li, the highest-ranking Chinese official attending the annual meeting.
"I hope the rest of the world can boost confidence and have more confidence in China," he added.
China's economy grew 6.9 percent last year, the slowest rate since 1990, the government said on Tuesday.
For this year, Li said: "Some moderation in the growth rate is consistent with the law of economics."
Capital is flowing out of China on worries over the weak economy, although the Chinese State Administration of Foreign Exchange on Thursday said that the impact could be controlled.
Wall Street giant Goldman Sachs Group Inc estimates there was a foreign exchange outflow from China of US$97 billion last month, according to a research report.
China's benchmark Shanghai stock index has already lost about one-fifth of its value this year, closing at a more than one-year low on Thursday, on worries over the economy and the government's ability to stave off a "hard landing."
China stocks yesterday ended up in volatile trading, with the market drawing some support from a rebound in global equity markets and oil prices. The Shanghai Composite Index gained 1.3 percent to 2,916.56 points and was up 0.5 percent for the week.
A stock market rout last year saw Beijing launch an unprecedented rescue package, widely criticized as being heavy-handed, which included state-backed funds buying up shares.
However, an official at China's securities regulator defended the moves, saying the government was trying to act as a market maker.
"The Chinese government intervened, and some people from outside China think what the Chinese government is trying to do is to bolster the market to boost the shares of the market, but what we are trying to do is to give more liquidity to the market," China Securities Regulatory Commission Vice Chairman Fang Xinghai (方星海) told Bloomberg.
Comments will be moderated. Keep comments relevant to the article. Remarks containing abusive and obscene language, personal attacks of any kind or promotion will be removed and the user banned. Final decision will be at the discretion of the Taipei Times.