Barclays to trim 1,000 jobs, about a quarter in Asia
Barclays PLC chief executive officer Jes Staley has started a fresh round of cuts at the investment bank, with plans to eliminate more than 1,000 jobs worldwide and exit several Asian countries, people with knowledge of the matter said.
The UK bank plans to cut about 230 jobs in the Asia-Pacific region, including winding up its cash equities business there, one of the people said, asking not to be identified because the decision is not public.
It is to exit operations in countries including Taiwan, Australia, South Korea and Malaysia and plans to maintain offices in Hong Kong, China, Japan, Singapore and India, and keep its prime brokerage and derivatives business in Asia, the person said.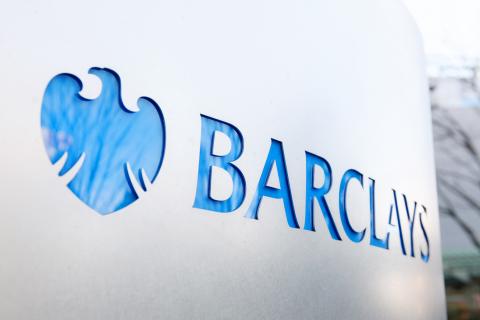 The Barclays PLC logo is displayed outside the company's offices in Tokyo, Japan, yesterday.
Photo: Bloomberg
Barclays said it has suspended cash equity research, sales and trading in Taiwan, as well as its convertible bond trading operations.
However, the bank is to take orders from clients who want to trade equities before its departure, allowing them to wind up their accounts.
Barclays set up a branch in Taiwan in 2005 and had a staff of 50 to 60 employees serving institutional investors.
Staley, a former JPMorgan Chase & Co banker who took over last month, is seeking ways to boost earnings growth and restore investor confidence by focusing on the bank's most profitable businesses. He and chairman John McFarlane are scheduled to present a broader strategic update alongside the bank's full-year results on March 1.
"This suggests that they are having to be aggressive to have a chance of boosting returns in the investment bank as a whole and it may imply a lack of patience by the chairman in terms of how long this process will take," said Christopher Wheeler, an analyst in London with Atlantic Equities LLP.
Turmoil in global equity and commodity markets is adding to the urgency for banks to reassess which markets and business lines they want to compete in.
Standard Chartered PLC and Royal Bank of Scotland PLC are among companies that have made broad cuts in Asia after deciding their operations there were not profitable enough. Those retrenchments might open the door for some competitors to take market share.
The Financial Times reported earlier that the company is to cut about 1,000 jobs.
The bonus pool for the investment bank might be cut by at least 10 percent from the previous year, one of the people said. The bank, which has not made a final decision on compensation, plans to pay bonuses in March, later than the usual mid-February timing, according to a separate person.
The investment bank's bonuses fell 24 percent to £1 billion (US$1.4 billion) in 2014 from £1.3 billion in the previous year, according to the bank's annual report. Total compensation costs for the division fell 9 percent to £3.6 billion from £4 billion over the same period.
Barclays fell 4.1 percent to 182.05 pence in London on Wednesday, tracking a global rout in equity markets and extending its decline to 17 percent so far this year. The stock lost about 10 percent in both 2014 and last year.
Staley was hired as chief executive officer after McFarlane fired Antony Jenkins over the perceived slow pace of restructuring.
Barclays employees in Tokyo were informed of the cuts yesterday by the bank's Japan President Eiji Nakai.
Nakai said the bank is to close its cash equities operation in Japan and focus instead on derivatives, prime brokerage and electronic trading, the people said. About 80 positions in Japan will go, and a similar number in Australia, the people said.
About 40 to 50 investment bankers in Asia are losing their jobs as part of the reductions, one of the people said.
Among bankers leaving is Anoop Chaudhry, the Asia-Pacific head of power and utilities, according to people with knowledge of the departures.
The bank is closing all its cash equity research, sales and trading as well as its convertible bond-trading businesses across Asia, according to a memo sent to clients that was seen by Bloomberg. Barclays' equity-research team is to stop covering stocks listed in Asia immediately, the memo said.
Staley is the latest chief executive to deepen cuts at its securities units as banks shrink to restore profit growth amid tougher capital rules and a cooling global economy.
Morgan Stanley chief executive officer James Gorman said this week he was "effectively done" with about 1,200 job reductions in fixed-income trading after concluding the outlook for the business is poor.
Additional reporting by staff writer
Comments will be moderated. Keep comments relevant to the article. Remarks containing abusive and obscene language, personal attacks of any kind or promotion will be removed and the user banned. Final decision will be at the discretion of the Taipei Times.