Prices of 32-inch panels to bottom out: researcher
Prices of 32-inch TV panels are expected to bottom out later this quarter, but most LCD panels would extend last year's downward spiral on persistent oversupply, market researcher TrendForce Corp (集邦科技) said in a report.
The rebound in prices is unlikely to help the nation's two biggest LCD panelmakers, Innolux Corp (群創) and AU Optronics Corp (AUO, 友達光電), which have phased out the production of 32-inch TV panels to differentiate themselves.
The prices of 32-inch TV panels are expected to fall 1.8 percent to US$55 per panel in the second half of this month, compared with two weeks ago after a decline from last year's peak of US$90 per unit, the Taipei-based researcher said.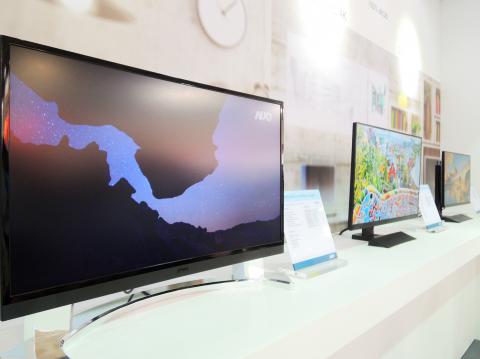 LCD TVs are on display at a store in Taipei yesterday.
Photo: Chen Mei-ying, Taipei Times
TrendForce attributed the fall in prices to widening losses incurred by global LCD panelmakers last year.
"Things are changing lately," the researcher said in a report released on Wednesday. "As 32-inch TV panels become unprofitable, BOE Technology Group (京東方) and China Star Optoelectronics Technology (CSOT, 華星) — the world's leading suppliers of such panels — have increased the production of 49-inch and 55-inch TV panels, ending the months-long oversupply of 32-inch panels."
Rising demand for 32-inch LCD TV panels from TV brands are also likely to help buoy prices, the researcher said.
Taking advantage of low 32-inch panel prices, global TV brands are increasing their shipment of 32-inch TVs to vie for greater shares in emerging markets, it said.
TrendForce said stable demand and reduced supply would help stabilize the prices of 32-inch TV panels within one or two months.
Overall, the LCD industry started the year on a negative note with weak prices for most TV panels, the researcher said.
"The talk about production cuts sound like lip service," TrendForce said. "Besides, the first quarter is a slow season and orders for all kinds of panels will be negatively affected."
Prices for 55-inch and 50-inch TV panels are expected to fall 6.8 percent and 7 percent to US$220 and US$143 respectively in the second half of this month from the first half, according to TrendForce statistics.
Comments will be moderated. Keep comments relevant to the article. Remarks containing abusive and obscene language, personal attacks of any kind or promotion will be removed and the user banned. Final decision will be at the discretion of the Taipei Times.