Chief's return date uncertain, Valeant official says
It is still uncertain if the chief executive of embattled Canadian pharmaceutical company Valeant Pharmaceuticals International Inc, Michael Pearson, is to return to the company, his temporary replacement told investors on Wednesday.
The firm's interim chief executive officer, Howard Schiller, said the company would not now provide any update on the condition of Pearson, who the company said was hospitalized with severe pneumonia just before Christmas last year.
Schiller spoke to a packed room at the JP Morgan Healthcare Conference here in his first public appearance since his appointment.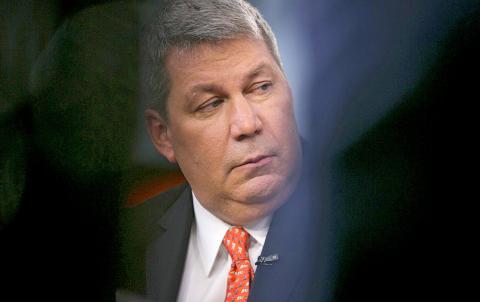 Valeant Pharmaceuticals International Inc chief executive officer Michael Pearson, pauses during an interview in New York City on April 23, 2014.
Photo: Bloomberg
Schiller said Valeant had been informed by Pearson's family last week that the timing of his return was uncertain.
It was at that point that the board of directors decided to appoint Schiller — the company's former chief financial officer — to run the company in Pearson's absence.
"It truly wasn't the script or the circumstance under which I would have ever wanted to come back to Valeant," Schiller , who was the financial officer from 2011 until June last year and is still a director. "Given how I felt about Mike, the company, its prospects and people, it was an easy decision."
Valeant would not comment on whether Pearson was still hospitalized.
Valeant's once high-flying stock has plummeted in the past few months as concerns grew about the sustainability of its business model, which has relied in part on acquiring drugs from other firms and sharply raising their prices. It has come under the scrutiny of both the US Congress and US federal prosecutors over its pricing and distribution practices.
Most recently, the company attracted criticism for what had been its secret relationship with a mail-order pharmacy that helped win reimbursement for its costly dermatology drugs. Valeant severed its ties with that pharmacy, Philidor Rx Services, and signed a new agreement with Walgreens.
Schiller said he was "100 percent committed" to the new job, adding that he and Valeant's management team were "not caretakers" and were "moving things forward."
"The bottom line is we remain committed to our strategy," Schiller said. "We are going to regain your trust and confidence."
Schiller said that Valeant would focus on paying down debt this year rather than spending earnings on its usual large number of acquisitions.
The company, he said, did not anticipate "excessive" price increases on drugs anymore, adding that Valeant needed to devote more resources and attention to relations with investors, governments and the news media.
"We need to change the narrative," Schiller said.
Valeant shares fell nearly 3 percent on Wednesday, closing at US$85.54. They were briefly above US$260 in August last year.
Comments will be moderated. Keep comments relevant to the article. Remarks containing abusive and obscene language, personal attacks of any kind or promotion will be removed and the user banned. Final decision will be at the discretion of the Taipei Times.