Bear market looming as PBOC fails to stop selloff
'VERY, VERY FRAGILE': The Shanghai Composite Index fell 2.8% as investors fled to government bonds, while the yuan dropped 0.5% despite a stable reference rate
Chinese stocks yesterday headed for a bear market, while government bond yields fell to a record as central bank cash injections and a stable yuan fixing failed to shore up confidence in the world's second-largest economy.
The Shanghai Composite Index sank as much as 2.8 percent, falling more than 20 percent from its high last month and sinking below its closing low during the depths of a US$5 trillion rout in August last year.
Investors poured money into government bonds after the People's Bank of China (PBOC) added the most cash through open-market operations since February last year, sending the yield on 10-year notes down to 2.7 percent.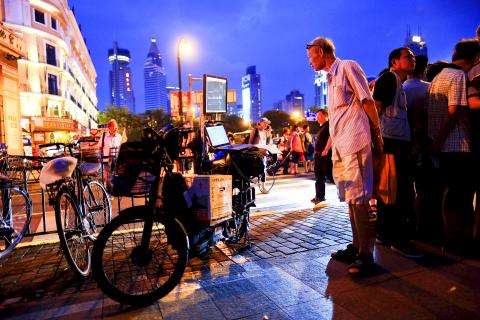 Lv Hai looks at a screen displaying a stock analysis software, fixed to the back of an electric bicycle, during a street stock salon in Shanghai, China, on Sept. 5 last year.
Photo: Reuters
While the central bank kept its yuan reference rate little changed for a fifth day, the currency dropped 0.5 percent in offshore trading and the Hong Kong dollar declined to its weakest since March last year.
The selloff is a setback for Chinese authorities, who have been intervening to support both stocks and the yuan after the worst start to a year for Chinese markets in at least two decades.
As policymakers in Beijing fight to prevent a vicious cycle of capital outflows and a weakening currency, the resulting financial-market volatility has undermined confidence in their ability to manage the deepest economic slowdown since 1990.
"You can't really find buyers in this environment," Citigroup Inc strategist Ken Peng (彭墾) said in Hong Kong. "It's a very, very fragile status quo China is trying to maintain."
The government faces a dilemma with the yuan, GF International Investment Management Ltd (廣發國際) trader Samuel Chan said.
On one hand, a weakening exchange rate would help boost exports and is arguably justified, given declines in other emerging-market currencies against the US dollar in recent months. The downside is that a depreciating yuan encourages capital outflows and makes it harder to keep domestic interest rates low.
The monetary authority "doesn't want the yuan to depreciate fast because it will push funds to leave China very quickly," Chan said.
The country saw capital outflows for 10 straight months through November last year, totaling US$843 billion, according to an estimate from Bloomberg Intelligence.
Meanwhile, foreign-exchange reserves sank by a record US$513 billion last year to US$3.33 trillion, according to the central bank.
Policymakers have had some recent success in supporting the yuan after the currency's new year tumble rattled global markets. The PBOC has focused its efforts on the offshore Hong Kong market, soaking up the supply of yuan and pushing interbank borrowing rates for the currency to record highs earlier this week in an effort to deter bearish speculators.
The turbulence in Chinese markets is seeping into Hong Kong in other ways, too. The territory's benchmark Hang Seng Index dropped 1.6 percent yesterday to the lowest level since September 2012, while the normally stable Hong Kong dollar is heading for its biggest decline since September 2011. The city's economy also faces a weakening real-estate market and the prospect of capital outflows fueled by rising US interest rates.
"With the Hong Kong stock market declining and heightened worries over China's economy and markets, I see further weakening of the Hong Kong dollar," Mizuho Bank Ltd strategist Ken Cheung said in Hong Kong.
China's domestic stock market has become one of the most visible symbols of the government's struggle to win back investor confidence. After cheerleading by state media helped fuel an unprecedented boom in Chinese shares last summer, the market crashed as regulators failed to manage a surge in leveraged bets by individual investors. While a state-sponsored market rescue campaign sparked a 25 percent rally in the Shanghai Composite, those gains were wiped out yesterday as the index headed for the lowest close since December 2014.
The Shanghai Composite dropped 1.1 percent to 2,917.52 at the midday break as telecom and industrial shares led declines. The yield on debt due October 2025 fell as much as three basis points to 2.7 percent, the least for a benchmark 10-year note in ChinaBond data going back to September 2007, before rising to 2.74 percent at 12:22pm.
"Equities are not performing well, so bonds become the natural investment target, given their safety," Bank of Tokyo-Mitsubishi UFJ (China) Ltd chief financial market analyst Li Liuyang said in Shanghai.
The yuan weakened to 6.6092 per dollar in Hong Kong's offshore market, while the onshore rate fell 0.2 percent to 6.5893. Hong Kong's dollar, which is kept in a range from HK$7.75 to HK$7.85 versus the US currency, depreciated as much as 0.18 percent to HK$7.7738.
Bets are mounting in the options market that the currency's 32-year-old peg to the greenback will end, with one-year implied volatility almost doubling this year to 3.31 percent.
The overnight cost of borrowing yuan in Hong Kong declined 4.7 percentage points to 3.61 percent yesterday, extending its decline from an an all-time high of 66.82 percent on Tuesday. Onshore money markets were stable, with the one-day repo rate little changed at 1.93 percent in Shanghai.
China's central bank yesterday conducted 160 billion yuan (US$24 billion) of seven-day reverse-repurchase agreements in its open-market operations, up from 70 billion yuan a week ago.
Traders are on alert for more official support, said Melody He, the Hong Kong-based head of capital markets for CSOP Asset Management Ltd (南方東英).
"The market is on watch for further policy changes," she said. "Meanwhile, the current confusion on market direction and lack of positive sentiment could continue."
The government will probably report fourth-quarter economic growth of 6.9 percent on Tuesday, according to the median of economist estimates in a Bloomberg survey.
They project that the final report for last year will bring the full-year expansion to 6.9 percent, the slowest annual pace since 1990, and that GDP will further slow to 6.5 percent this year.
Comments will be moderated. Keep comments relevant to the article. Remarks containing abusive and obscene language, personal attacks of any kind or promotion will be removed and the user banned. Final decision will be at the discretion of the Taipei Times.